L-earning Moments Column By Tita Datu Puangco from the Philippine Daily Inquirer  - Job Market and Working People
Techniques for Self Leadership Series:
Tita Datu Puangco of Ancilla Enterprise Development Consulting, a Filipino EOC company, offered the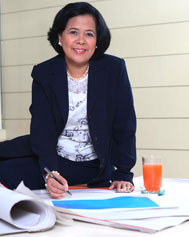 following series as a short, free distance-learning course through the Philippine Daily Inquirer. In the series, Puangco gives some simple tips for any entrepreneur or employee wanting to take the initiative in preparing themselves to meet the constant challenges and changes in today's business world while maintaining a mindful, enthusiastic, joyful and ethical work practice.
She offers advice such as "living the present moment well" in order to face today's fast-paced, change-driven environment, or practicing Chiara Lubich´s "art of loving" in order to be a team-player. She widens one's vision of work by posing questions such as "What is the will of God for my life?" and "Who are you here to help?" At the same time, she gets straight to the concrete questions of everyday work life: the value of time, interpersonal relationships, commitment, the importance of continual improvement, and being goal-oriented and focused.
Spurred on by the principles of the EOC, Puangco knows how to translate trust in God, the belief that all are children of one God, and the spirituality of unity into practical, lay-termed, everyday advice for good, moral leadership development.