The story of an abused woman. The search for a job. The hundredfold and life capable of new beginnings
by Alberto Ferrucci
published in pdf Città Nuova n. 13/14 (471 KB) 10-25 July 2015 edition
We have just concluded the Fifth International Congress on Economy of Communion in Nairobi.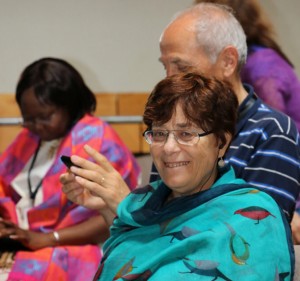 It was attended by entrepreneurs and scholars from five continents and many Africans, mostly young people. As you can read more in detail in the pdf "Economia di Comunione – una Cultura Nuova (Economy of Communion - a New Culture 2.34 MB)" attached to this issue, we like to think that this conference has been a true gift of God, a free gift but also a response to the much energy spent by many: difficulties as regards health, organizational commitment, overcoming the fear of terrorist attacks for Westerners and prejudices against Westerners for Africans; efforts of scholars to present the EoC with African cultural parameters and of entrepreneurs not to be satisfied by their company, but to share their expertise and experience to help fulfil the dreams of young Africans, some of whom arrived in Nairobi after a four-day trip.
The experience reported below is of the Australian congress participant Lorraine. It may well be a bit 'extraordinary for us, but it surely isn't for those who breathed the atmosphere experienced in the congress of the "economy of the hundredfold", as described by Piero Pasolini, one of the first companions of Chiara, manufacturer of works, theoretical physicist and intellectual, so close to the Africans that they decided to name the little town of Nairobi after him.
As I boarded the plane at the Dubai airport bound for Nairobi, there was a young Kenyan woman in front of me. I noticed that something was quite unusual. She was holding her passport in her hand and was not carrying a handbag. I realized that she had the seat next to mine and so I listened to the woman's desperate story from Dubai to Nairobi. She was coming from Qatar where she had been working as a house maid. She had moved there trying to make money to support her young son and family. She had worked for a family but was abused by them and so she left. She had arrived at Dubai that morning and, being exhausted, fell asleep. When she woke up, her handbag and all her money were gone.
At the end of the flight, I gave her some US dollars and my card, and I asked her to email me if she could when she got home to a place called Meru, 400 km from the airport. Four days later, I received a beautiful thank-you email asking me to let her know when I was leaving Kenya. I was able to call her as I was leaving the Mariapoli Piero and she told me she was having difficulty finding work there and supporting her son at school. It came to mind that I could put her in touch with a friend I had met up with in those days from Nairobi. My friend agreed that if the woman made contact, she would respond.
I realized I had touched upon a serious face of poverty present in Kenya and all over Africa, and my friend told me that many young women trying to make some money go to Middle Eastern countries, where they are often abused and sometimes sexually — a modern form of slavery.
I thought the story was over, but the hand of God's providence became evident in a most miraculous way. When I arrived at Dubai airport to return to Australia, I had about a two-hour wait. So I sat down and offered some crackers to a woman about my age sitting next to me. She was very grateful, and when we started to talk, we realized we were of like mind. She was an entrepreneur with partners in a major social enterprise project including an orphanage and a permaculture initiative — in Meru, the very place where that first young woman came from!
I told her the story and the young woman's desperate need for work, and without hesitation she said that their project was expanding and could look into offering her a job!
I was overcome with joy and amazement at the hand of God's providence, providing exactly what was needed in that moment. This woman, whose name was just like mine, Lorraine, was returning to Colorado to move house, but soon I will get her in touch with my new Kenyan friend, who in the meantime wished bon voyage to me via email.
I gave my copy of the magazine New City to Lorraine that spoke of the Economy of Communion in Africa: she expressed her interest in participating in the next event of the EoC, and told me how her project was also started thanks to Providence (hakuna matata project/). But that's a story for another time!
Lorraine Lipson