Learning from each other to grow together and fight poverty
by Andrea Fleming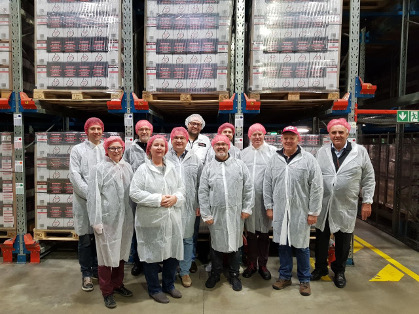 At the end of February a small group of EoC entrepreneurs went to Neuenkirchen and to Rheine in Northern Germany to get to know two companies involved in the project: a very fruitful exchange was born.
Claus Naarman guided the group through the production areas and control rooms of his dairy factory, reporting on the expansion of the market in Asia and the level of wages in the various sectors of his company, now employing about 150 people.
In the afternoon Sonja and Martin Volkmer showed the group their dental laboratory, where they now work with 100 employees, and shared the challenges of personnel management and the difficulties they face due to changes in the health care system.
Both companies now have to test themselves with a new leadership structure after a generational change: the young entrepreneurs were very happy with the feedback, interest and questions posed by their entrepreneur 'colleagues' representing other business and economic sectors.
Finally, they discussed question of how to structure the EoC initiatives in Germany in a concrete way in the near future and tried to figure out together which aid projects to support this year in a common effort to make a concrete contribution to the fight against poverty.
The next appointment to be marked in the schedules for entrepreneurs from Southern Germany is in August in Augsburg: be there!