Project supported financially by Irish EoC business will now get 'hands on' treatment as group travels to builds a dairy
by Donal Lawlor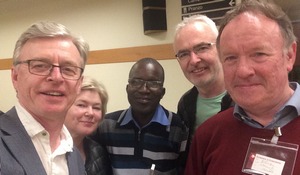 While the rest of us will be enjoying the Christmas festivities with our families some members of the EOC in Ireland will travel to Burkina Faso immediately after Christmas to help build a small dairy.
The eight member team, led by Paul Connolly an EOC entrepreneur for many years will be working at the Complexe Agricole Temuwe near Pahin, 250 km west of Ouagadougou, in Burkina Faso. They depart on 27th December and return to Ireland on 6th January 2018.
The project began when four years ago Paul met Abbé Expedit Gnoumou in Ireland. "Through our conversations I realised that he
was very committed to help his people escape from subsistence farming," says Paul.
Paul decided to switch some of his regular EOC funds to this project and together with other EOC members, volunteers and their families they have now contributed over €50,000 ($60,000) to the building of the school. Students are already attending the school and the farm has obtained important supply contracts from local businesses.
"Expedit was keen for us to visit this project," says Paul, but "we did not wish to go as the visiting benefactors but to help out in a practical way. His reply was - "the bricks will be ready!"
The group of eight is made up of three older men, four young men aged from 18 to 24 and "one brave girl". Among those travelling is Kevin, a farmer and builder and Michael, an electrician.
"The rest of us are the labourers," says Paul. They will be assisted by members of the local community in Burkina Faso.