From 23 to 27 August the first EoC Research Summer School for young researchers of the Economy of Communion was held in Mariënkroon (Netherlands).
by Mª Asunción Esteso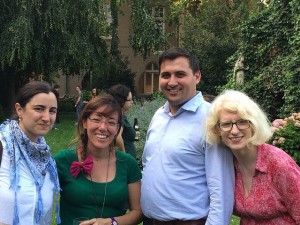 The programme was structured around plenary sessions, where professors presented topics of interest related to research on the EoC and parallel sessions on the two disciplines: economics and management, in which students shared their research work. The topics they dealt with include research methodology, the anthropology underlying the EoC, updates on the empirical studies conducted so far, challenges and new perspectives.
The aim of this school was not only to get to know the EoC better, but also to "feel" it.
This goal was achieved thanks to a programme in which interpersonal relationships were at the centre. In a very competitive world like that of research, the opportunity to learn from each other through constructive feedback, both in sessions and at intervals and even during meals has made this school a unique opportunity to continue researching with renewed energy. One of the keys was a flexible and creative programme that included elements that favoured relationships: the field trip to get to know a social enterprise, the visit and dinner in the city of Wijchen or the boat ride on the canals of the city of Den Bosch with a show, were all relaxed moments that favoured the creation of mutual acquaintances among the participants.
A key moment to highlight was the open meeting of experts on Friday 25 August in the afternoon. In a carefully prepared and rigorously professional process, the reconciliation of the terms "economy" and "communion" was the theme chosen for the discussion coordinated by the President of the Thomas More Foundation. The participation and collaboration of this Foundation through teachers and students has been of great importance for this school. This alliance enriches research thanks to the synergies between the various disciplines, generating a learning that is not fragmented but takes place in communion.
All this without forgetting all those who have been involved in the organization of this school: professors, logistics,
but also the staff of the Mariapoli Centre with their warm welcome, the staff of the kitchen, so many have been the details taken care of... because the EoC is made up of us all.
Let us therefore start with a - more than ever - grateful heart and ready mind to continue to search, without fear of being ambitious but being realistic at the same time, if we want to do a rigorous and professional job, according to the vocation that we have received.
see photo gallery