by Maddalena Maltese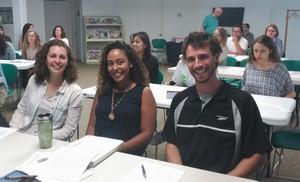 Lisbeth Wallin from New York is 26 years old, and after a year and a half she spent in various South American countries as a volunteer for social work in the Focolare Movement, she decided to create a small company, Project Lia. In a 360sqm studio in Indianapolis, formerly incarcerated women are learning to turn discarded material into pieces of furniture, with hand-made fabrics. The activity has reduced the risk of recidivism because, as the creator of the project explains, "Women working on waste also discover the hidden value in every one of them, which has shifted from the former phase of waste to that of a new possibility."
Nick Sanna from Washington is a well-established expert in cybersecurity. He heard the story of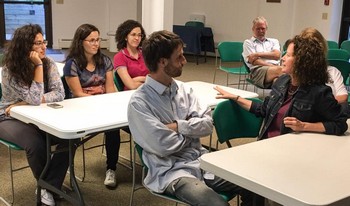 Betsy Garcete's fashion line for working women at an informal evening in the circle of some friends who are enthusiastic about the project of the Economy of Communion, and something special caught his attention behind the scenes: Betsy, a great supporter of immigrants and ex-prisoners, wants to lend her skills and knowledge in tailoring to their service to make them protagonists of a project that can provide them with a job, a salary and a future. Nick helps her out with the business plan, they identify the needs for machinery and spaces, but they also collect the availability of many volunteers who freely offer their time and skills for this project. Later there would be also Annie, Sacha, Ed, John, Andy, Jilles and many others making a contribution of their capitals and capabilities for new businesses where the profit and the centrality of the person are not in conflict but go hand in hand.
The stories of these entrepreneurs had so to say their stage provided by the annual conference of the Economy of Communion in North America at the Focolare Little Town, Mariapolis Luminosa, a few miles from New York. For the first time, the meeting was preceded by a Summer School with 25 young participants. This edition has expanded its borders to include Mexico and the Philippines: among the participants there was Christian Medina, a paintings and frames shop owner with his wife, Norma Sanchez Mendoza and also Tess Ganzon, CEO of Bangko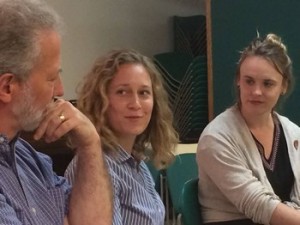 Kabayan, a microcredit bank. Their entrepreneurial paths, too, have given a universal breath to the project launched by Chiara Lubich in Brazil in 1991 and today, 26 years later, it has become a global network the nodes of which include students and teachers who were present in great numbers in the North American meeting.
Pope Francis' talk to the participants of the International EoC Conference on 4 February was the compass for the panels, workshops and moments of public sharing. It was given an in-depth reception and understanding by those present and will also serve as a guideline for the future projects, which won't be just businesses but promoters of communion, capable of sharing profits and ideals, not slaves of money but serving ethical and spiritual values. The message was commented by John Gallagher from Maryville College and Tony Annette from Columbia University who also opened a side discussion on ties with the encyclical Laudato Sii. Two Evangelical university professors wanted to respond to the pope's challenge: Andy Gustafson from Nebraska decided to present the EoC at the meeting of business school directors at Jesuit universities that will take place in two weeks; at the same time, Scott Hanson a Presbyterian professor and managing director of the non-profit Evangelical Team, wished to highlight that "this experience manifests the very presence of God I see in my church; what's more, I wish the copyright of the Pope's talk was ours, because it is what we need and want to live as Presbyterians." Following a roundtable discussion on corporate social responsibility, the academics present assessed the possibility of a series of webinars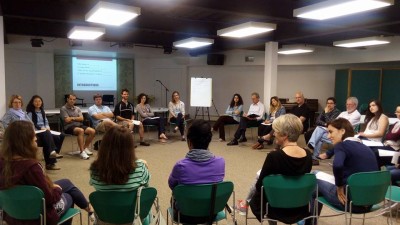 on the Social Doctrine, Ethics and Economics of the Church.
There were also interactive and challenging workshops on leadership, business communication, staff recruitment criteria and charismas that prompted profound and productive comparisons of operation and management practices. As a result, synergies emerged between those present, where talents, needs and skills were exchanged, and additional local projects were created to support foreigners, migrants, people in fragile conditions with a past of drugs or alcohol, without forgetting consultancy and support offered for new and innovative start-ups. The description of the first steps of the international network of business incubators (EoC-IIN) and news of the companies operating on all continents in the spirit of the EoC were received with great enthusiasm: everyone felt the urge to offer their ideas and expertise for the potential strengthening of the official launch. Plans for next year include working together in North and South America for a Pan-American EoC school.

See Summer School photo gallery -

See Annual Meeting photo gallery