An International Symposium on Economy of Communion, will be held at the Catholic University of Central Africa in February, 2017

February 09-10,2017
Catholic University of Central Africa
Campus Nkolbisson, Library
Yaoundé - Cameroon
What is Economy of Communion "EoC?" What challenges in Africa? What experience for the more than 800 entrepreneurs worldwide? How to create meeting effect in a market of goods and services? Why the true nature of the gift is half-caste and subversive and non-philanthropic? And finally what place for human relationships, the culture of gift in the governance of businesses?
It is in favour of an International Symposium organized at the Catholic University of Central Africa, through February 09th and 10th, 2017, on the theme "Economy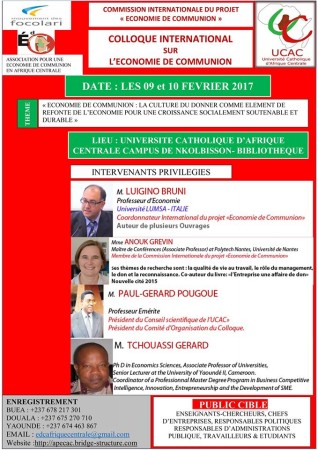 of Communion: The culture of giving as an overhauling element of the economy for a socially supportable and sustainable growth". On the two-day programme of the symposium are moments of brainstorming, and sharing of experiences on the management of businesses by entrepreneurs of Economy of Communion. Rev. Prof, Richard FILAKOTA, Rector of the Catholic University of Central Africa, shall be launching works; with main speakers being Prof. Luigino BRUNI, International Coordinator of EoC Project, permanent senior lecturer at the LUMSA University in Italy and guest lecturer at the University Institute of Sophia; Prof. Anouk GREVIN, Associate Professor in Management at the university of Nantes in France; and as antagonist Prof. TCHOUASSI Gérard Senior lecturer at the University of Yaoundé II-Soa. The experience of Fr Georges NKEZE, president of the Catholic University Institute of Buea "CUIB" and the presence of other African entrepreneurs, shall also enrich these two days; under the scientific coordination of Prof. Paul Gérard POUGOUE, President of the scientific council of UCAC.
Close to 200 people: students, university lecturers; entrepreneurs and experts of various sectors of life are expected at this symposium to share on EoC themes: EoC was launched in 1991 in Brazil by Chiara Lubich, and celebrated its silver jubilee recently. 25 years went by since this revolutionary idea was brought up: it consists in placing the culture of gift at the centre of the economic root of economic action, giving birth to companies that do not only generate profits, but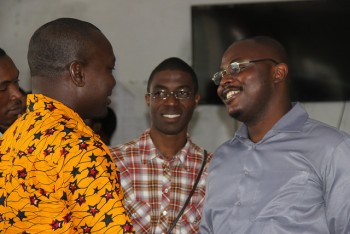 also give way to some sort of inclusion of the community for those suffering because of poverty. EoC is a movement of entrepreneurs, experts, students, researchers, associations, economic subjects and commercial projects united by a vision of the world and of economy tilted towards common good and complete development of man and society. Thus, for these entrepreneurs and businesses, as Alberto Sturla recalls "...the adherence to EoC doesn't mean to show some sort of certification as label (which doesn't exist and I think it is better this way), it is not to clear their conscience with philanthropic acts that are so omnipresent in social relationships of some multinational businesses that are directly responsible for so many distortions, but trying to change the things in the only possible way: by taking care of a person at a time."
So, take an appointment and be among the participants in this Symposium by enrolling via the APECAC website and/or by sending an email to: This email address is being protected from spambots. You need JavaScript enabled to view it. download invitation