In Lugano the International Conference on Economics, Health and Happiness started today.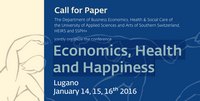 The conference promoted by the Department for Corporate, Health and Social Economics (SUPSI) headed by Luca Crivelli, as well as Heirs and SSPH+.The conference will take place from 16 January and has a very concise programme focusing especially on the relationship between economics, health and happiness in our days.
Individual well-being is under pressure nowadays as people are becoming increasingly exposed to many sources of stress.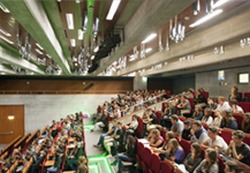 Changes in socio-demographic (i.e. population aging) and epidemiological trends (with the increase in chronic diseases), and changes in labor force participation patterns (especially for women), affect family and inter-personal relationships. In addition to this, the retrenchment of the welfare state and the recent economic recession have contributed to reducing the resources available to families and individuals.
The existing literature on health and happiness has generally shown the complexity of the etiological model underlying both trends. As well as ordinary economic goods, social and relational factors are also crucial in determining an individual's well-being. Genetic predisposition and genetically shaped features (such as personality traits) may also account for individual differences in health and happiness.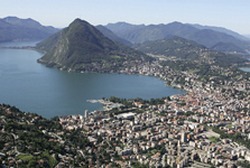 Several individual and contextual factors affect both happiness and health, and it would be interesting to examine the similarities/differences in the relationships between these determinants and health/happiness. The conference aims to stimulate and expand research on the determinants of health and happiness, and to foster the comprehension of how the effects of these determinants are heterogeneous across social groups.
Among the main speakers, major international representatives of these fields can be found, some of them already familiar to the readers of the EoC: Jennifer Nedelsky from the University of Toronto, Canada, Carol Ryff from the Institute of Aging, University of Wisconsin, USA, Robert Sugden from the University of East Anglia, Norwich, UK.
The Lugano conference is the last one in a series of international conferences that started in 2003, promoted by the HEIRs (Happiness Economics and Interpersonal Relations) Association brought forth by prof. Pier Luigi Porta from the University of Milano-Bicocca. The HEIRs conferences will continue in 2016 with two more events: in Rome, on 15-16 March, with the international conference entitled "Life Satisfaction and Social Optimum: The challenge between subjective and objective wellbeing indicators" and in Loppiano (Figline e Incisa Valdarno, FI) on 22-23 April with the conference on "Vulnerability and Gift in Economics and Business".