Close to 30 people came together over a "pay as you feel" dinner in a warm, intimate atmosphere to interact with our guests: a social entrepreneur and a visiting accounting scholar from the University of Bologna/Sophia Institute
by Lorraine Lipson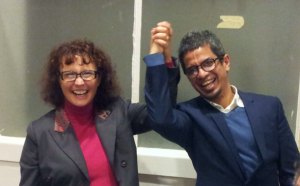 The invitation was to join us for an evening of dialogue on Economy of Communion over a shared meal at the "Ironing Room" at the Abbotsford Convent. Our guest speakers who stimulated the dialogue were Maria-Gabriella Baldarelli PhD in Business Economics – Visiting research scholar at Latrobe University and Assoc. Professor in General and Applied Accounting, Department of Management Bologna University and Shanaka Fernando. Social entrepreneur and owner of Lentil As Anything not for profit, "Pay as you Feel", restaurants, where customers have the opportunity to contribute towards a world where respect, generosity, trust, equality, freedom and kindness rules.
Shanaka shared his background and philosophy which is very synergistic with EoC principles. "The generosity we put into the business calls forth a reciprocated generosity from our suppliers and customers".
Maria-Gabriella presented theoretical aspects of the EoC drawing on examples, including references to Lentil As Anything. Both speakers captivated the audience with Mark Kelly as a skilful MC kept the conversation flowing. It certainly was a unique event with close to 30 people who created a warm atmosphere in an intimate setting. There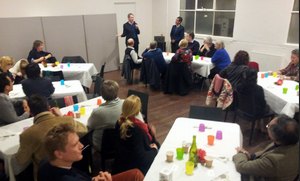 were entrepreneurs, a few economists including Sean Bevin who had come especially from New Zealand, accountants, a range of professional people, CEOs, managers and many who work in education, and the social services sector. Most people were new to the focolare which was our aim. We had a few younger ones with some who unfortunately could not make it.
The meal was a sumptuous vegetarian selection beautifully served and presented by the Lentil as Anything staff, who later joined us for the dialogue! We all experienced the "pay as you feel" approach to paying for our meal at the end of the evening. From the interactions, we saw that many are attracted to the culture of communion. We experienced that this event was a little seed that will grow toward us mounting a school for EoC for our zone. Next year is the 25th year of the EoC with celebrations to be held all over the world, including a large EoC event to be held in the Philippines. We have been given a challenge by Luigino Bruni. Let's see what we can do!!