Melbourne, Australia: Join us for an evening of dialogue over a shared meal about:
Economy of Communion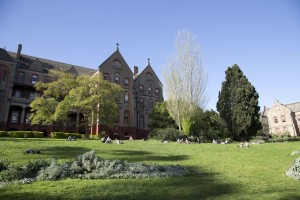 Monday 24 August 2015, 6.30pm – 9.00pm
Ironing Room,
Abbotsford Convent  
1-3 St Heliers Street,
Abbotsford VIC 3067 
We will explore another way of doing business which is already being lived out by some 850 businesses in 60 countries: in businesses taking many different forms, but all fundamentally oriented towards promoting a 'culture of giving', where profit is not an end in itself and a portion of profits are shared with those in need.
The Economy of Communion (E0C)  offers such a model, one that recognises the preeminent dignity of the human person whilst upholding the principles of the right to property ownership and fair reward for private initiative. And receiving takes on the same value as giving. 
Our guests: 
Maria-Gabriella Baldarelli PhD in Business Economics – Visiting research scholar at
Latrobe University and Assoc. Professor in General and Applied Accounting, Department of Management Bologna University (2004- current) Research interests include the Economy of Communion (EoC). (http://www.unibo.it/docenti/maria.baldarelli)
Fernando Shanaka – Social entrepreneur, founder of Lentil As Anything pay as you feel,
not for profit restaurants (since 2000) with growing involvement in education and social justice projects, where customers have the opportunity to contribute towards a world where respect, generosity, trust, equality, freedom and kindness rules (http://lentilasanything.com) 
Catering: Lentil As Anything Restaurant "Pay As You Feel" for the meal
Cost: $10 per person to cover venue hire  
Registration is ESSENTIAL as places are limited: RSVP before or on 14 August 2015:
Lorraine lipson – This email address is being protected from spambots. You need JavaScript enabled to view it. or Mob. 0419687593
Mark Kelly - This email address is being protected from spambots. You need JavaScript enabled to view it. or Mob. 0413710093
download flyer