The "pearl" according to the entrepreneur of the Economy of Communion project
By Vittorio Pelligra

Published in Città Nuova n.12/2010 of June 25, 2010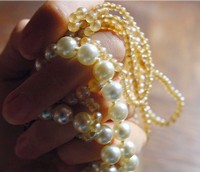 "The kingdom of heaven is like a merchant searching for fine pearls. When he finds a pearl of great price, he goes and sells all that he has and buys it"
Of course, we are all that merchant that sells everything he has to acquire a precious pearl, but in a simpler interpretation, that I also like, it is the model of the true entrepreneur who sees an opportunity in the risk rather than seeing a paralyzing cost. In the parable of the pearl, differently than that of the "treasure in the fields" in other verses, what is underlined is the idea of the "diligent search". While the treasure is stumbled upon by chance, the finding of the pearl is the fruit of active searching and of the ability of the merchant to glimpse in that object something that others were not able to recognize.
It is the entrepreneur who uses ingenuity, who dares for a greater good which is not only profit, but also the work that creates, the well-being that spreads, the quality of life of his clients. What come to my mind are the social entrepreneurs or those of the Economy of Communion project: passionate people, dedicated, who place their own talents at the service of others to contribute to a collective good and promote the quality of life of their community.
A traditional business has an economic goal, profit, which can only be reached, however, by submitting to ties of a social nature: respect of rules, of the environment, of workers, and so on. Instead, social enterprise or the EoC has a public goal: the well-being of the community, which can only be reached if one is able to respect a tie of economic nature, making profit. If a business, even a social business, does not make profit, it is expelled from the market. Therefore, in every business there must be profit and sociality, but while in traditional businesses the first is the objective and the second is a link, in social enterprises the objective is social and profit is only an important indicator of economic success.
A final aspect: the pearl is not an individual good, but is above all a "relational" good, whose value is of much need today. It is a more just and equal society. All of this is not that treasure which can be found by chance, buried in a field, but it is something that we need to build together with fatigue and will. The pearl is that which the social entrepreneur buys with his money to be able to share with who is at his side. The pearl is a fruit of gratuitousness.