In order to dedicate itself entirely to the events in Paris, tomorrow's Avvenire is changing its Sunday edition and the 3rd article of Luigino Bruni on Ecclesiastes will not be published. We are publishing the opening words of it only, that were written thinking of the Paris events.
by Luigino Bruni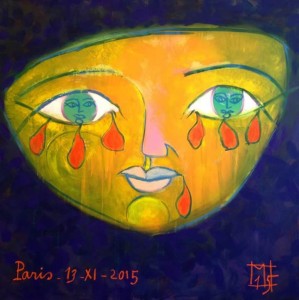 "And this blood smells the same as on the day when the brother told the other brother: »Let's go to the fields.«".
Salvatore Quasimodo, Uomo del mio tempo (Man of My Time)
Everything is an infinite Abel. An eternal Good Friday. Now it is the time for tears mingled with those of the French brothers.
I was writing the last lines of this article when the news of Paris reached to me, inflicting a deep wound in my heart. I stopped thinking and writing: all I felt was endless pain inside. "All is vanity", this was the first message I received during the night from Parisian friends. The song of Qohelet continues to sound, but today it is mixed with our tears. The Bible still gives us words to express unspeakable, unthinkable and absurd pain. Everything is an infinite Abel.
Dieu pleure avec nous! is a painting by Michel Pochet made in memory of the events of Paris on 13 November 2015