Carmen Bollea De Santos, Argentinian entrepreneur from Tucuman left us yesterday early morning.
by Carmen de Amarillo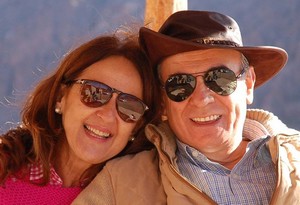 It's not easy to describe Carmen. If I had to pick one word, it would be "cyclone". Wherever she showed up she revolutionized everything ... And she managed to be everywhere: at the birthday of the bishop's mother, in the field, in the Federation of Argentinean Businessmen, in the EoC meetings... She was interested in everything and she wanted to record everything. She never gave up until she managed to keep going.
When he came to our group meetings she said: "I'm an English teacher, but I work producing and exporting lemons." She gave the name to her property in the country as  Chiara Lubich had suggested: Terri Citrus (fertile land). But above all, Carmen was passionately devoted to her employees (40) and their families. She certainly did not forget her own family: she was a very affectionate and very attentive mother and wife.
She tirelessly worked to protect and improve the quality and healthiness of
the lemons. When we were driving from one region to another to go to the EoC meetings, she got angry upon the thought of the sanity controls she did not think were enough. When she was already in hospital in Buenos Aires for a long treatment, she wrote a letter of thanks to the Argentine President Mauricio Macri (published by the newspaper La Nación) for making these controls compulsory. Then, when the United States approved the import of our lemons (in fact, Argentina, and more precisely Tucumán, is the world's number one exporter), she was so pleased with the result of her efforts she gave the president a box of lemons. Who knows what repercussions this fact may still have.
She joined the EoC immediately. She participated in all local and national meetings. She often invited her employees to get acquainted with the EoC so they could all share this lifestyle in the company. Every new season started with a massive campaign involving all the staff. She was very original with the other entrepreneurs and customers: it made us smile when she told us that she was inviting them to roll the Company Cube of the EoC and live according to what it showed on the top side. Human respect and inhibitions were not for her. She was also very generous, creative and concrete with the
employees. For example, she created savings funds for them to be able to access for loans generated by themselves. She provided useful things, such as mattresses for example, during the holidays.
Carmencita, you've left a very deep impression in us all. We are sad for your physical lack because we can no longer feel your joy and energy, but we know that you will continue to work with us in Paradise and intercede for your "beloved EoC" as you called it.
---
We include two messages written by Carmen Bollea to Aldo Calliera, president of the Argentinean EoC Association
After 8 months of treatment in Buenos Aires Carmen writes:
"Thank you, soul sisters and brothers! I've had so many deep feelings since I arrived
here... I've become speechless! I've cried about it all but with so much joy!  Last night I had another great splash of emotions, at the end-of-year dinner with my other family, that of the EoC... the blessing of Father Francisco Urbanch, the welcome in Our Lady of the Valley in the main hall, thousands of loooooong hugs, tears, words, happy faces grateful to God for seeing me again, songs, children's drawings, gifts... everybody was there. My children, those angels, have worked hard for eight months and it has been the best year for the company. Yesterday night I saw them, all five, expressing their thanks to God, to their parents, their colleagues, they were all so united, with so much faith, hope, affection, with new projects and dreams to accomplish!
You could feel the presence of Jesus there among us. I have seen the spirit of the EoC embodied in TerriCitrus, the new name Chiara gave: Tierra Fértil Ltd. with 40 employees... When I started we were just 5, so there has been a great evolution and all thanks to my "hidden partner" who has always accompanied me.
Thank you. I am very happy to be in my Fertile Land."
Receiving the news about the meeting with Pope Francis on 4th February, Carmen writes to Aldo:
"It's a great loss for me not to be able to go and meet the Pope. I say this with tears in my eyes but also with that Peace that only the voice of God can give, in harmony with my family, I feel that Alchemy which transforms the pain into love while doing his Will!
And I leave room to others, I offer everything, right at the beginning of the jubilee year of Our Lady of Fatima, for the ill, for this historic meeting of the EoC with the Pope... may it be wonderful and full of thanks for every company. My dear Family, a big kiss to you all, I will write a letter to Pope Francis telling him how my heart feels... but with joy to be with you in my imagination on 4th February.
A big hug, I love you so much!"