For Christmas 2016 we would like to send our greetings to you in the form of Luigino Bruni's experience from these past days. Merry Christmas from the entire EoC Team!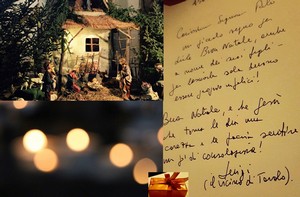 "...the Lord has anointed me
to bring good news to the poor;
he has sent me to bind up the brokenhearted"
(Isaia, 61).
Today, passing near Padua, I had dinner sitting next to an old lady, Rita, about 90 years old. We exchanged a few words, and she told me this: "I'm here to spend Christmas. My two children have not invited me to their house at Christmas for years. And so this year instead of crying at home alone, I thought I would travel 300 km away to stay in this hotel."
How much poverty there is in our world, how much pain people have to go through being lonely and unaccompanied! And as I was listening to her with all the love I could, I realized that when Chiara asked me to take care of the EoC 18 years ago it was so that tonight I could be here: to listen to Rita and help dry the sea of her desolation a little. Merry Christmas!
Luigino Bruni