Cameroon, Fontem: 55 African Startuppers, bearers of 30 Projects spend 5 days in the incubation laboratory with 12 tutors from different horizons (7 Africans, 5 Europeans, 1 South American)
by Michel Mbengya and Steve Azeumo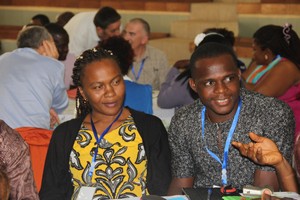 After a tough preparation, 55 young entrepreneurs from the D. R. of Congo, Angola, Uganda, Nigeria, Ivory Coast, Cameroon, Burkina-Faso, Madagascar, Benin and Holland met in Fontem on 19th June 2017. It was the beginning of the very first Startup Lab Africa at the Mafua Ndem Mariapolis Centre – in Cameroon. 10 nations, with 55 participants, were present for this Laboratory and 30 projects presented according to Economy of Communion values. From day 1, several instances contributed to the solemn opening of this event, such as the presentation of different delegations, followed by the welcome address of the Senior Divisional Officer for Lebialem division who outlined, in his speech, the interest of this pioneer international event.
He recalled the necessity to see EoC open out, as it is the solution to many of the ills the world, in general, and our African societies, in particular, are witnessing.
In her introduction, Dr Anouk Grevin presented, throughout these five-day incubation, EoC values as lived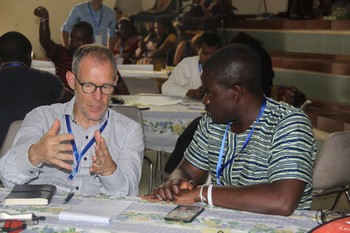 by entrepreneurs worldwide. The first morning was an opportunity for all participants to make a pact of reciprocity among themselves, support each other so as to bring forth these days of incubation and this life proposed by the Economy of Communion wherever they may be.
Sylvain Doua from Ivory Coast testifies: "In five days, from 20th June through 24th June 2017, tutors, from several European and African countries, gave a specialised training on business key tools ". StartUpers got acquainted with « Pitch Elevator » introduced by Florencia Locascio from the EoC IIN « Economy of Communion International Incubating Network », and which consisted in performing a one minute presentation of your business in an attractive way. Pierre Chevalier, a French Entrepreneur, took young entrepreneurs into the search of ideas much more latest from one another, and he introduced his workshop with the image of « The illusion of the Iceberg »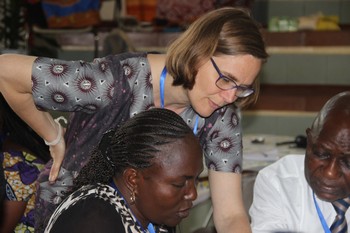 expressing better the life of an entrepreneur for whom « success » has sacrifice, work, faith and creativity as tribute. Having a good know how of one's project, doing more with less and being creative, are three indicators which allowed the youth present to better coin out their projects.
A pause was made on day 3 when Giampietro Parolin came up to deepen notions on budgeting, via an approach which drives over prejudices and was very much appreciated by participants. Three types of budgets were seen: operating budget ; cash budget ; capital budget. There were practical exercises on charges and products of each project, so as to better understand the financial part of the project, especially : calculation and determination of : sales forecast, cost of production, cash flow statement.
On day 4, each participant had to set in a table, a presentation of the overall business logic,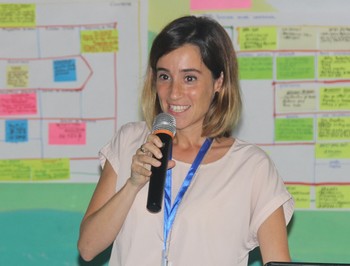 explanation of value creation and how profit is made. Markus Ressl Consultant at Ressolution and EoC Entrepreneur, with a very simple methodology, rightly knew how to bring each participant to contribute in the establishment of his business model. This, with the Canvas tool having a special modification, including an interpersonal dimension with EoC values to better grasp the coherence of processes and functioning of an EoC business.
On day 5, Florencia Locascio talked of communication strategy: importance of the name, brand and slogan. As well as the use of communication means giving access to different target clients. Each of the young entrepreneurs present, gave in to the « Pitch Elevator » test which allowed them to discover challenges to overcome in the future.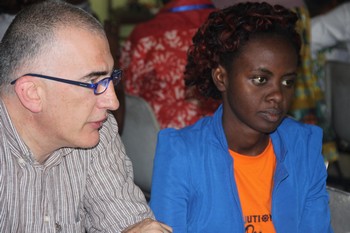 This laboratory rounded up with the award of training certificates, alongside the Symbol given by participants to the International EoC Commission, as a token of acknowledgement. It is a handicraft design representing members of the international network seated around the MAFUA NDEM pilot city, hands lifted bearing strings linking one another. Symbol of the pact of reciprocity made on day 1.

go to the photogallery (day 1)


go to the photogallery (all days)