by Alberto Ferrucci
from the EoC Report 2014-2015 on the "Economy of Communion - A New Culture" no. 42 Editorial insert of Città Nuova no. 2 - 2016 - February 2016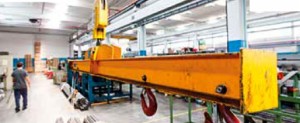 The 500 entrepreneurs who accepted the invitation of Chiara to create businesses of communion in the early nineties, today, after 25 years, are mostly reaching the age of retirement. Well, those of them who are still active: their companies, navigating the rough seas of seven years of global crisis are in many cases now managed by their children, with their respective business and personal goals and visions.
If the majority of adherent companies were only based on those early entrepreneurs, by now the Economy of Communion would be a great experience of the past; but others have joined, shared their profits, even if received from a small number of companies, and they continued to grow and send us beautiful experiences of communion from various parts of the world.
Our American entrepreneurs who years ago had created a web site called B2B (business to business) to facilitate acquaintance and communication between companies on an international level, have now set up a new site, www.eoc-companies.org that enables companies not only to join to get in contact with others in their territory through local commissions, but also to confirm their membership and communicate their willingness to pool their talents to develop other businesses. Through this site, 355 companies have already reconfirmed their membership and many have also listed their professional skills and technologies that they are ready to share with others.
In light of a recent census, there are 811 businesses that value and live the EoC spirit: 263 of these are active in Italy, 200 in the rest of Europe, 220 in Latin America, 84 in Africa (these doubled since the last count), 26 in North America and 18 in Asia.
So after 25 years there is a hard core of entrepreneurs who continue to experience a new way of living the economy, certain that in this world, which is getting more and more wounded by the "side effects" of the liberist economy, this is the most concrete contribution they can offer, as well as making their resources and talents available, to accompany the enthusiasm and determination of the young entrepreneurs who, thanks to the nascent worldwide network of incubators, will give birth to the future generation of EoC companies.