The culture of communion helps us look around, without being locked inside our poverty
by Geneviève A. M. Sanze
from "Economia di Comunione - una cultura nuova" n.41 - editorial insert in Città Nuova n.13/14 - 2015 - July 2015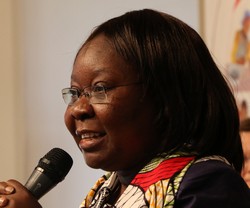 "I am what I am because of what all of us, without exception, are."
An anthropologist proposed a game to the children of a tribe in South Africa. He put a basket of fruit near a tree and told the children that the one to reach it first would win all the fruits. At his signal all children simultaneously sprang...joining hands! Then they sat down to enjoy their reward. When the anthropologist asked them why they had done so, they said Ubuntu, that is: how can one of us be happy if the others are sad?
This trend towards community solidarity expresses the essence of African culture. We can share our joy, pain, goods and difficulties. Although the individual may have a significant role, there is no room for selfish individualism. This may be the gift of our continent to the entire human race, to modern global society that is characterized by selfishness, fear of the other and a tendency to get closed in around ourselves.
Perhaps many of us cannot produce great wealth or create jobs, but surely we can stand together and form a communion, the first response to situations of crisis, in order to create relationships, peace and trust with God and with our brothers and sisters. Communion is more important than any economic wealth.
It is not only communion between a person in need and another that offers help, the first communion is that of the souls, of life, of the hearts: everyone has a heart, life and soul to give and share.
We must find new ways to enter into the culture of the other by becoming aware of its diversity and recognizing its richness. If we engage in helping an entire people in general, we make its poverty clear, and it loses its wealth, becoming doubly poor and entering a vicious circle that makes it dependent from us from which it cannot break free because it doesn't think to be able to do so. Chiara said: "You have to stand in front of everyone, ready to learn."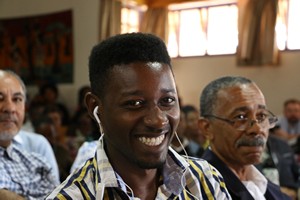 With this attitude I can give the person who is in front of me the opportunity to give me something, and this other person can feel important, because I need them. You can donate a house to a poor person, which for them is an absolute necessity. In return that poor person gives you a piece of fabric: the value of these gifts cannot be compared. The poor man has not even tried to figure out if this cloth is as important to you as is the house for him, he simply gives you what is most precious for him. Unless we learn to value that humble piece of fabric, no house donated will become well-being. Whoever receives a gift must first have an experience of being welcomed as a gift. This is where the secret of communion lies.
Returning to Africa, the culture of communion helps us to look around, without being locked inside our poverty, without stretching out our hands waiting for the help of others, but to be and give together. With the Economy of Communion we have seen poor people regain their full freedom of life, dignity, joy and responsibility, in a new relationship with society.