One day we said to ourselves: what should we do for our little village? I realised that the words of Life lived could give me the guidelines...
by Gilbert Gba Zio
from "Economia di Comunione - una cultura nuova" n.41 - editorial insert in Città Nuova n.13/14 - 2015 - July 2015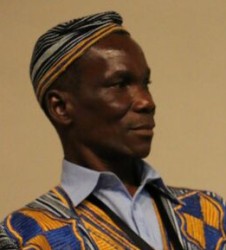 My name is Gba Gilbert. I live in Ivory Coast, in a village called Glolé. When I left school, I felt a call from God within me. Since I did not understand it, I just kept going to church, listening to the word of God asking me to do something. But what? During this research I met the Focolare Movement.
Though I had been quite inactive till then, I suddenly realized that it was necessary to make some decisions in life. I realised that the words of Life lived could give me the guidelines... Thanks to this new life of the Gospel, we got married in church with Martine, along with eight other couples. It was a marvellous day of celebration!
A small group was created that way, and we met frequently to strengthen our communion.
House for the "strangers" (guests)
One day we said to ourselves: what should we do for our little village? There are many people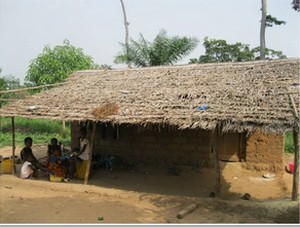 who travel through our area; they walk many miles and have to sleep on the road side till they reach their destination village. We usually give our own bed to our guests every time. This is also the Gospel's way, but we said to ourselves: couldn't we do more? Why not build small houses, so when someone arrives we could offer them somewhere to sleep? So we started to make bricks, singing songs of joy. There were some bricklayers in our group and so we built 12 small houses with one bedroom and a small living room each. Now we can say to the strangers who arrive: "We have a house, come and sleep there". There is always some food, too, as we are farmers. This way we have made the first steps.
House of health
It takes a seven-kilometre track to get to the paved road from our village. During the rainy seasons no vehicle manages to get through and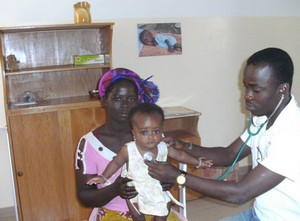 so you have to walk. Then there are other 30 kilometres to reach the first town called Man. Therefore it is not easy to travel, especially if you have to do it because of an illness.
One day there was a woman who was giving birth and it was a complicated labour. We took her to the asphalt road in a wheelbarrow to get her in a car. Thanks God the woman was saved; but it was tough. Therefore it was necessary to build a house of health and bring in some "traditional obstetricians" to help women in labour.
All these ideas were born in the moments of communion amongst us, during our meetings. After a reading [of the Bible] and sharing we ask ourselves: what will the fruits be? Everyone of us offers an idea that may help move forward, because it is useless to just wait and stand there with crossed arms.
We wanted to build the house of health with cement bricks. But where to find the money for them?
We have the institution of tenant farming: the proprietor of a piece of land can give it to someone else to cultivate it for one season. In the end, the harvest is divided in two equal parts and shared among them. Our community took a coffee plantation: the men pulled the weed out from among the plants, the women harvested the coffee. When the coffee was sold, half of the sum gained was given to the group. With this money we could buy the cement and build the house of health. "Providence" has helped us get the money for the roof and the two special beds for childbirth. We also made some other beds from bamboo, complete with matting.
A public official sent us a solar panel to provide light because there is no electricity in our village.
Later there arrived a tractor to help with the needs of the village, but also with complicated pregnancies, so those mothers did not have to be transported in a wheelbarrow any more. There are obstetricians in the house of health, who are not paid for their work. They work in shifts. In the evening, when we get back from the fields, we bring them some food. Those who have money, give them some.
Children suffering from malnutrition
There were children dying in the village and we did not know that we could actually save them.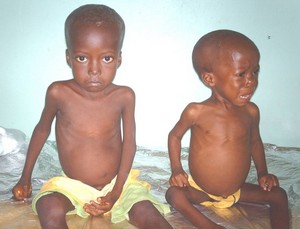 In the Little Town Victoria of the Movement, there's a Centre taking care of them. We explained the problem to them and started bringing the children in. We were surprised to see that the children were getting healed in that place without any medications. They taught us how to feed them. One day the head of the centre told us: "If you want we can go to your place". We agreed. Together we pondered the question: to whom do the children belong? In our culture a child belongs to the entire village! They explained to us how to prevent and how to cure this illness. We started to change our food related habits, we learned that it is necessary to eat beans, peanuts, mushrooms... and we learned how to conserve food so we could give our children to eat even in times of famine.
Rice bank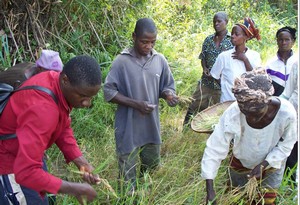 We store the rice in smaller granaries, but they are frequently "visited" by thieves and mice. So we asked ourselves: couldn't we build a house to keep our rice in? We built a rammed earth house where everyone sent what they had. In the beginning we were only 30 people. Nowadays, some farmers who are not members of our group have joined us, too, and 110 people are bringing their sacks of rice to keep them in our bank. In the months of March and April, during the sowing season they come to take what they need for ploughing and they set apart what they need for feeding their children. At the right time, when the prices are good, they take away their rice and sell it. Everyone donates a part of their harvest according to their conscience and deposits it in the bank as a contribution to compensate for the needs of the community and for those who guard the rice bank.
One village is not enough
As they saw what we were doing, the people of the neighbouring villages said to us: "Couldn't you come to us with your business?" They actually called it "your business". We explained to them how the spirit of the Focolare Movement lead us in our concrete actions. They were moved and they said: "We would like to join your group, too". Today, there are 13 villages that live like us.
Unity is our richness. One day there came an outsider who wanted to help us make a well for the village. But we could not agree about the location of it. Had we insisted on having a well, it would have brought division to the village. So we preferred not to accept this gift but to keep the unity amongst us.