170 young people from 25 countries attended the first pan-African school (Nairobi 22-26 May 2015)
by Anouk Grevin
from "Economia di Comunione - una cultura nuova" n.41 - editorial insert in Città Nuova n.13/14 - 2015 - July 2015
There were many signs that it would be a very special school: we had seen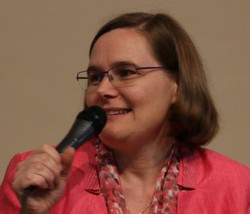 the increase in enrolment, feeling unable to control either the maximum number of participants ("no one should miss such an opportunity", they said), or the age of those who got enrolled ("in Africa age does not matter"). Some had to travel up to four days by bus to attend. We have seen young people thirsty for hope for their land and eager to take up serious training to become "apostles of the EoC".
Notwithstanding the large number of participants, we immediately felt like a single family. The school has become a laboratory, a space for dialogue and working on the projects of the young people as well as the challenges of Africa.
On the first day, a panel with 7 young Africans made us get into the problems of the continent, highlighting the potential and wealth of African cultures.
Three questions accompanied our days: "What is my dream, inside the big dream of the EoC?", "What does it mean to run an enterprise and live the EoC in a serious way?" and "How to overcome the difficulties?". In a succession of experiences, reflections in small groups, contributions from teachers, always with much time dedicated to dialogue, together we walked a path of personal and collective growth, exceeding initial expectations, preparing to become the protagonists of the society that we wish for.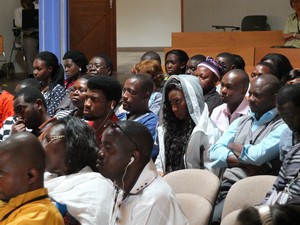 In the afternoon workshops we elaborated on the dreams that each of us carried in their heart. 7 groups worked on projects of creating small business activities, 3 studied initiatives for their communities, while 4 groups of entrepreneurs or managers shared their experiences on the different aspects of business life, others yet conversed about the prospects in the field of education or research.
When we proposed to the young people to write down their dreams and hang them on the wall of the conference room, so that the EoC entrepreneurs could get to know them, there flourished 45 new projects, one after the other, all inspired by a specific need in their community. Sale and production of clothes, cosmetics and handicrafts, oil, wine, bananas, dried fruit and spices, farms for cattle and poultry as well as training centres for children and women, homes for students, music schools and even some projects oriented at environmental protection, with waste recycling, decontamination of hospitals and energy optimization.
There were even projects aimed at helping others to venture into income generating activities,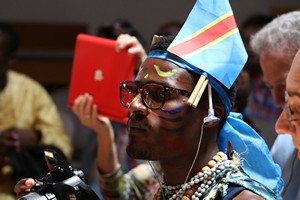 such as the incubators of business projects, counselling, vocational training, micro-finance. Often projects were accompanied by beautiful "dreams". Michel writes, "It 'obvious to me that the EoC is a response to the economic problems of this century, a solution that I wish to be at the forefront of the current and the future economy, because of its humanism and dynamism. I dream of a world economy where the only reason for entrepreneurship is the service of humanity. I dream of an economy where all performance indicators are measured with the human dimension. I dream of an economic revolution brought by those who are "left out", of a rising economy, a transformative economy, forming new people. I dream that the EoC is listed as the number one excellence in the world for every business acting according to these principles. I dream of an economy that offers the joy of sharing, living together, an economy that serves man. I dream that... I dream that... I dream that... I believe it is possible, I trust that my dream will come true."
New projects born in Nairobi: the Siobhan Incubator and the François Neveux Project.
We did have some ideas upon arrival, but we could not yet perceive what form these projects would take, we presumed they would be born during the days spent together. During the school and the congress that followed it, we saw them emerge before our eyes, quite unexpectedly.
First the Siobhan Incubator. In addition to a temporary incubator for businesses thought up in Loppiano, operative from the summer of 2016 to serve the whole of Europe, it became clear that a specific project for Africa was to be born, too, here at the Mariapolis Piero, to support and accompany the projects of new companies. We wanted to name it after Siobhan, the young Scottish woman who died in 1999 in the Philippines in a plane crash with other employees of the EdC Ancilla company, just when she was getting ready to start a network project to connect all EoC companies of the world with her friend Lorna Gold. It will begin in a temporary form with a session of 15 days for young people working on a project of creating a company, in January 2017.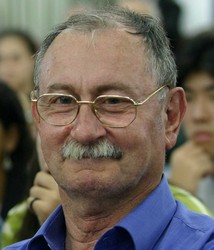 But we could not wait for 2017. In Africa, when a child is born, it is the whole community that cares for it to grow. So it had to be for the projects created in this school. On the last day, reviewing the projects, we saw an entrepreneur stand up: he offered to accompany two young ones, then another one, and another one. The sheets on the wall were flourishing with business cards and comments like "I want to be your brother", or "I would like to support your beautiful project as a friend". This is how what we had dreamed of naming François Neveux (the French entrepreneur who created an EoC company with his technology in Brazil) one day was all of a sudden born: a project connecting entrepreneurs from around the world, in a relationship of mutual help, like brothers. It will aim to recruit entrepreneurs from around the world to accompany new projects, in particular those proposed by young people supported by the EoC incubators. And there's more to come...