More than 180 participants and 27 countries represented
by Antonella Ferrucci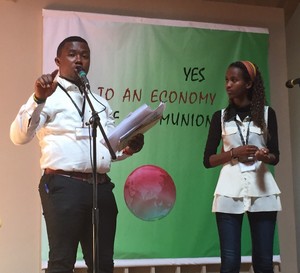 This morning at the Mariapolis Piero (Nairobi, Kenya), there were intense final preparations for the first "Pan African and International EoC School for Young People" that started this afternoon and will last until 26 May. Those who have crossed a whole continent or travelled through half of the world to participate are of course looking very much forward to this event. Although there have been some last-minute circumstances, such as the failed coup in Burundi a few days ago and the related disorders that prevented some of the students who had booked to be here today, but in Africa they say it is normal that things are constantly changing and the usual exercise is to adapt to the circumstances meekly. Perhaps that is why the climate one can feel at the Little Town Piero today is joyous and hopeful.
The school is described as "Pan-African and International" and in fact it is exactly so: 27 countries are represented; the majority of participants come from the African continent,
with a noteworthy representation of the Democratic Republic of the Congo (43 participants), Cameroon, Uganda and Kenya itself, there are participants from Burundi, Nigeria, the Ivory Coast, Burkina Faso, Rwanda, Benin, Tanzania, South Africa, Angola, Chad and Egypt. Other continents are also represented: there are participants from Europe (Italy, Spain, France, Switzerland and Slovakia), from the Americas (Mexico, Brazil, Argentina, Ecuador and Paraguay), from Asia (India) and even from Australia.
Some heads up of the program: "The EoC: a great dream", "What is an EoC business", "Facing the difficulties": these topics will provide the starting points for the experiences shared in the morning, followed by some fundamental questions
that will be asked and then discussed in small groups. After that, there will be plenary sessions to collect the fruits of the groups' work with the help of as prominent experts as Vittorio Pelligra, Lorna Gold, Giuseppe Argiolas, Anouk Grevin, Geneviève Sanze and Benedetto Gui. In the afternoons, there will be workshops appealing to 4 different areas of interest: Creating an EoC business, We are all an EoC, EoC business practices and EoC scholarship, followed by discussions in plenary. The last evening will see a talk by Luigino Bruni on the EoC today and its prospects for the future. On 26 May the closing event of the school will take place with the presentation of the groups' work and the handing out of the participation certificates. So let's wish everyone a very good school!
See programme