A foretaste of the programme of the EoC International Congress at the Mariapoli Piero (Nairobi, Kenya)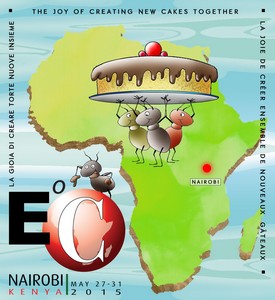 The programme of the forthcoming EoC International Congress scheduled for 27 through 31 May 27 to take place at the Mariapolis Piero (Nairobi, Kenya) is looking very rich indeed, and more than 400 people are expected to participate: even if the majority will come from African countries, a good representation of the remaining continents will also be seen, including Australia!
Each day will feature a significant theme that will be the leitmotif of the presentations and panel of experiences that will alternate in plenary: Creativity and Communion, The Culture of communion, Business and Work, Poverty and Wealth and finally, on the last day, Say yes to an EoC. Luigino Bruni, Geneviève SANZE, Anouk Grevin, Giuseppe Argiolas, Luca Crivelli will be the ones to make a contribution on the various issues of the presentations in plenary.
During the afternoons, there will be two sessions of workshops to deepen the EoC, according to each and everyone's interest, through various different fields (Politics, Microfinance and Poverty, Startups, Scholars and Young Researchers, Management, Entrepreneurs' Networks, the EoC in dialogue with African cultures). Roundtable discussions will also follow on the EoC in the world today with the presentation of its various manifestations. An entire afternoon, that of 29 May, which is also the 24th birthday of the EoC, will be dedicated to have a celebration and party together and - knowing the all-African talent of "partying" - we can hardly imagine what great time we will have...
There will be a streaming of some moments in plenary; we will provide the link to connect on this site as soon as they become available. We wish you all a great Congress!
See programme