Sponsor for Nairobi 2015 Event - School for Young People and International EoC Congress: here is your chance!
Would you be willing to support the students coming from all over the world for the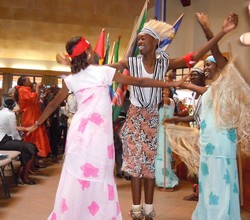 EoC School (22-26/5) in Nairobi or the International EoC Congress? Would you and your company be willing to say Yes to an economy of communion together with the other participants of the Event by supporting the creative and innovative way of thinking, working and doing the economy and living in the society? Here is your chance! Your company is may be small but can gain exposure during Nairobi 2015.
The possibility of becoming a sponsor of the events of Nairobi 2015 is open to all, from large to small and medium scale enterprises and even to individuals. There are sponsorship categories to choose from: Principal, Major, Supporting and Supporting Student Sponsor.
For more information about becoming a sponsor, please send an e-mail to:  This email address is being protected from spambots. You need JavaScript enabled to view it.
Principal Sponsor - Lead Sponsor - maximum of 5 companies  – sponsorship package valued over EUR 1.000
- Corporate banner in the events hall, visible during the program
- Electronic banner on the EoC website including the corporate logo and a hyperlink,
in prominent, lead level position
- Corporate logo and acknowledgement as Principal Sponsor on any printed or digital promotional materials.
- Acknowledgement as principal sponsor in any press release announcements
- Reference to Principal-level sponsorship in post-event thank you letters
- Two (2) complimentary admissions to the meeting
Major Sponsor – maximum of 10 companies – sponsorship package valued between EUR 500 to EUR 999
- Electronic banner on the EoC website including the corporate logo and a hyperlink, in prominent position
- Corporate logo and acknowledgement as Major sponsor on any printed or digital promotional materials
- Acknowledgement as sponsor in all press release announcements
- Reference to Major-level sponsorship in post-event thank you letters
- One complimentary admissions to the meeting
Supporting Sponsor– maximum of 25 companies   – sponsorship package valued between EUR 50 to EUR 499
- Electronic banner on the EoC website, including the corporate logo and a hyperlink
- Acknowledgement as sponsor in any press release announcements
- Reference to Supporting-level sponsorhip in post-event thank you letters
Supporting Student Sponsor – maximum of 25 companies   – sponsorship package valued between EUR 50 to EUR 500
- Electronic banner on the EoC website, including the corporate logo and a hyperlink
- Acknowledgement as sponsor in any press release announcements
- Reference to Supporting-level sponsorhip in post-event thank you letters