Let's write a new page in the history if the EoC together: Africa 2015, the International Congress and the "School for Young People" in May, in Nairobi.
by Maja Calfová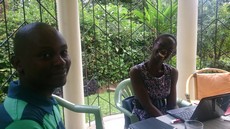 We are now in the midst of preparations for the next global EoC event to be held in Nairobi, Kenya, in the month of May.
 This will be an event with a specific characteristic, in that it aims to be 100% African and at the same time 100% global: that is, an event that wants to belong to all! Everybody has their own part in the preparation, all are invited to participate, and the better world that each and every EoC event  intends to build step by step, with the contribution of each and every one also belongs to everybody.
The event in Nairobi will represent a new step in the history of the EoC. Luigino Bruni
explains the reasons for this, 'A new phase of creativity and generativity will be launched: generativity is a word I like so much in Africa, by nature, to children, to the economy.' Meaning that "new cakes" will be created, and there won't be a limitation to distributing the existing ones or those that have been made elsewhere, and the poor will be included productively in the enterprises.
All are invited not to miss this important event in the history of the EoC, by registering for the International Congress in Nairobi (27-31/05/2015); the young people who get inspired by the life of the EoC and bring forth some great ideas that vibrate the strings of the heart are all invited to enrol in the EoC School to be held immediately before the International Congress at Piero Mariapolis (22-26/05/2015), 40 km from Nairobi.
You can now register online both for the "School for Young People" and for the International Congress here: www.eoc-nairobi-2015.info (will be constantly updated): follow us online!
More information on the International Congress: This email address is being protected from spambots. You need JavaScript enabled to view it.We are also on Facebook!
More information on the "School for Young People":
This email address is being protected from spambots. You need JavaScript enabled to view it.  Facebook page.