Fashion designer's business plan put to the test
Betsy Garcete, CEO and founder of a fashion company specializing in women's cocktail dresses, tells how putting relationships before profit helped build her business
By Erica Zolinas
from Living City, October 2012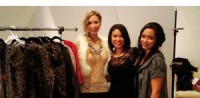 Although Betsy Garcete, 25, found happiness after founding Zophia, a fashion company specializing in custom-made cocktail dresses, difficult financial times and internal business quarrels tested her newly formed business plan and threatened her company's future.
The ideas behind Garcete's business plan, based on values taken from the Economy of Communion, consist of being happy with your choices while doing good for others and focusing on face-to-face communication to better understand others.
We sit on a front porch at Mariapolis Luminosa, the Focolare center in New York's Hudson Valley, where EoC entrepreneurs are having their annual conference. The sun is being held prisoner by heavy clouds and rain pounding against the ground like soldier's footsteps. When I ask about Zophia though, Garcete smiles as if the sun is shining and the ground is dry.
Although Garcete graduated with a bachelor's degree in psychology from The Catholic University of America in Washington, her true passion is fashion; it has been since she started designing dresses for her friends' proms in high school. So Garcete packed her bags and moved to New York City, where she began working for local fashion designers.
New York City supposedly grants endless possibilities to creative minds that dedicate themselves to their dreams and the big city itself. Does it really? For Garcete, it may have, but at a cost.
"These people I worked with were out to get each other," Garcete says, "just to get ahead. Once you get there, you have all the money, and then what?
"There's nothing behind it," she says. "I didn't want to become a stereotype."
Once again she packed her bags, this time heading home to Washington. After taking a job as an assistant to the director of counseling at Catholic U., Garcete began her master's in business management and founded Zophia.
"I really felt," Garcete says, "that I could create a business that would compete within the fashion industry but still have the family values I was raised with."
In creating Zophia, Garcete made sure its business model focused on face-to-face communication. During these interactions, Garcete says she strives to reach a common good, an understanding and respect among those she works with. She's found that you can do so by simply listening to what others have to say. Sounds simple enough.
This business model was recently put to the test at Zophia. Two years ago, near the start of Zophia's launch, Garcete began working with a business partner. (We'll call her Sally.) After working together and creating a friendship, Garcete found out, via Facebook, that Sally had begun her own collection using Zophia's resources and contacts. Because they had shared business ideas as well, Garcete was worried that Sally would duplicate these ideas, endangering Zophia's future.
"I was furious," Garcete says, turning her palms up and shrugging, "but I was able to use the EoC principles: being more focused on the relationship we'd made over those two years and not on the profits."
The situation took months to resolve, Garcete says. Meeting with Sally though, Garcete didn't allow her anger to take control. Instead, Garcete acknowledged what Sally had done while staying optimistic about their relationship and individual businesses.
Though these events did change their relationship, Garcete says that it changed for the better. Still friends, Garcete has continued working on Zophia, while Sally has gone on to create her own fashion business. Both continue to promote each other's lines.
According to Garcete, this EoC business model is the foundation for Zophia's future, especially in these difficult economic times. Despite speaking on the current economy, a topic that would make even the most financially successful CEOs shiver in their stilettos, Garcete is casually leaning back in her chair. Why? Garcete says it's because she's learned to use and expand upon the resources her company already has.
"So what exactly did I have?" asks Garcete. "I had the relationships with the people that I knew, that I networked with. It wasn't so much who I emailed or who I was friends with on Linkedin, but it was the people that I would talk to in person."