Work and the economy — that rocky ground where anxiety, frustration, struggles and unemployment are common — takes in everyone. With Chiara Lubich, let's examine the dignity of work and some ideas on establishing positive relationships in the workplace
By Chiara Lubich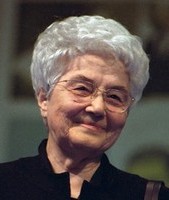 from Living City, October 2012
There is need to reaffirm the primacy of the human being over capital, property and structures, to create an ethical meaning of work that is mindful of the fact that "through work, people … achieve fulfillment as human beings," as John Paul II said in Laborem Exercens.
We human beings, in the name of God who created us, should also be aware of our social nature … We know what human relationships mean for God: to love others as ourselves. As ourselves, not less …
Not only can our Gospel-based spirituality of unity contribute to finding solutions to the present problems of the working world, it can be of vital importance to it. Every person — from the owner to the administrator, from the director to the technicians, from office workers to laborers — should love everyone in such a way that he or she becomes "one" with the others, in order to build solidarity with them.
In this spirituality, mutual love leads to reciprocal understanding, to sharing the fatigue of the others, to making the problems of the others our own and to seeking solutions together. It leads us to find common agreements for new forms of organizations in the working world. All come to share and participate together in the means of production, and in the fruits and profits.
What are the consequences? For individual laborers, industrialized work may have previously been synonymous with being crushed and deprived of their personality, with being unable to see the fruits of their intelligence and efforts. Now, because they consider their own all that regards the others as well, work cannot help but take on meaning and stimulate it … We need to realize that in the world, humanity is one family and to live accordingly. It's difficult to reach these goals simply through goodwill, with mere human strength or with a vision of work that is purely an earthly one … We know, however, that a sense of solidarity was what led laborers of the last century to fight against the injustices of the rising industrial system …
Since then we have achieved definite improvements in safeguarding the basic rights of workers. Even so, in many countries under various systems, old injustices persist and new ones have arisen.
The fact is that it is not sufficient to unite laborers to resolve economic problems. It is necessary to unite all men and women who are involved in this field of human endeavor …
Since the economy of each country is so linked to that of other nations, the situation requires a "global" social awareness, as John Paul II has affirmed. Who is capable of helping people to fully achieve this? …
Only Christ and his supernatural and universal love can help. So often he is relegated to our private prayer life, and instead his love is the indispensable leaven for the whole of human existence in all its expressions …
Only with his love can selfishness and hatred — often considered the law of social life — be eliminated from the workplace and working communities will witness how unity rather than conflict can truly improve work. With his love, the life of society itself will not be considered as a struggle against someone but as a commitment to grow together.
Only a new civilization based on love will be capable of offering a solution to the complex problems of the world of work.
Excerpts from Chiara Lubich's speech at the meeting on Economy and Work, Rome, June 3, 1984. In 1991, through the Economy of Communion in Freedom she founded, Chiara addressed the drastic need to provide solutions to world poverty and the need to create jobs. See Living City, November 2011, edc-online.org, centrochiaralubich.org