The first, long-awaited Summer School in Mexico started yesterday, on the very special feast day of Saint Clare.
by Christopher Jiménez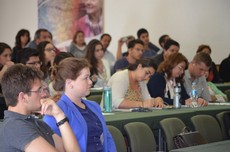 Puebla, 11 August 2014 - The days of waiting are over in Mexico: from this morning, the Little Town of El Diamante has transformed itself into the buzzing capital of the Economy of Communion in the Americas. In fact, over sixty students, entrepreneurs and experts of the EoC gathered here, coming from the United States, Canada, Mexico, Honduras, Panama, Costa Rica, Colombia, Argentina, Brazil and Ecuador, and also from France, Switzerland and Italy.
The day began with a brief introduction in which everyone shared their ideas, experiences and expectations of the EoC: a valuable time to agree on the objectives and the methodology that will characterize the work of this school.
In his words of greetings, Galo Pozo from Ecuador said that the EoC is "a way of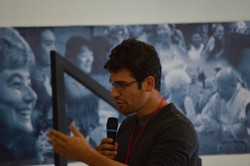 thinking, feeling and acting differently" and urged the young participants to "put our lives on in the best way possible, put it on this project."
Luigino Bruni, coordinator of the EoC's International Commission, had the task of making a preliminary overview on the history and purpose of the Economy of Communion while also describing the hallmarks reflecting the vocation of those who participate - or wish to participate - in this cause.
Later on Luca Crivelli, economist at the Italian University of Switzerland, presented an analysis on poverty, addressed in its various manifestations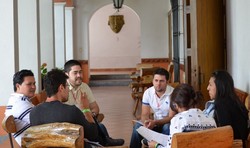 and forms, making a point of the situation of the phenomenon at different latitudes of the world.  At the end of his speech, Luca Crivelli shared an interesting handbook of the Economy of Communion, in which the EoC entrepreneurs are described as creative innovators who are committed to helping the poor to get out of their situation "on their own feet" by involving them not only as recipients of aid, but also as actors and active participants in the "Culture of Giving", the spiritual life force of the Economy of Communion.
Work was continued in groups until the evening, all this in the beautiful surroundings offered by the Little Town of El Diamante. We will keep you updated!