In Arny, the 2014 Paris Summer School has ended
by Giuseppe Ruggiero
On the fourth day of the summer school, Anouk Grevin, professor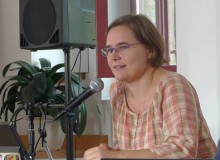 at the University of Nantes delivered a talk. Anouk told us about the practices of management in the EoC companies and, with shining eyes, encouraged us to cultivate the dimension of gift.
Giving gifts in one's work, like an unpaid extra hour, is a common practice but it is rarely recognised or rewarded.  Sometimes a simple 'thank you' or a smile is enough to make a difference between a wound and a relationship of reciprocity. According to Anouk, the future of corporations will not depend on order and control anymore, but on organised liberty and responsibility.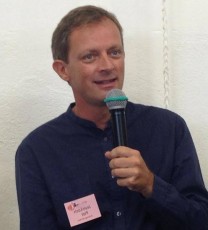 Right after this, it was time for Jean-Luis Plot, patron of the handcrafted soap workshop called Rampal Latour. This entrepreneur moved us literarily as he taught us to respect quality, love of the environment and the community.
Sunday is the day of departures. After a morning full of embraces and tears held back with difficulty, the forty-strong group leaves in all possible directions. But it did not go that smoothly...no, the emotional load was almost unbearable at times!
Hope and Communion: these are the key experiences of this Summer School. The daily worries of the first days get dissolved, and though the problems will always be there, now we all seem to share a feeling that things will change for the better. The Summer School is a real shower of hope!
It may be because of the venue, the smiles, the reciprocal love, but in the Mariapoli of Arny, with its colonial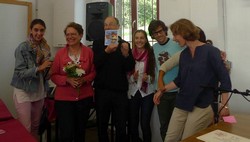 houses between gardens caressed by the northern wind and with the children playing on the hills, the air is just full of peace.
It is the same peace that the soldier breaths in before the battle, when, before all the great tests he feels a shiver running down in his spine knowing that the training is now over and it is time for actions.  Our challenge does not lie in the battlefield, but behind university pulpits (like for Luigino or Anouk), behind the writing desks inside a multinational (like for Ludmilla or Raimon), or we have to face it as a leader of a company (like Jean-Luis or Teresa). It is there that we are called to build a more just world.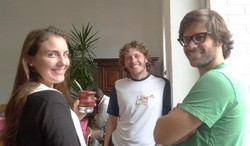 Many thanks to all for the Light, the Love and the spiritual connections, for the good laughs we had together, for the early wake-ups and the late nights. Many thanks because we had never met before but still it was as if we had always known each other!
The next appointments: EoC Workshop School and LoppianoLab in Loppiano (1-5 October 2014), Summer School and International EoC Congress in Nairobi (May 2015), EoC Summer School in Prague (August 2015), EoC Summer School in Brasil (Mariapoli Ginetta, October 2015). Be there and have a good Economy of Communion!