On the 2nd and 3rd day of school, the "dream team" of the 2014 Paris Summer School was given some challenging tasks
by Giuseppe Ruggiero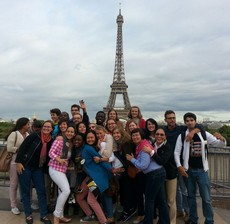 The second day of the 2014 summer school was closed at the foot of the most famous tower of the world, the Tour Eiffel. Right under the gigantic steel tower, the young participants are chilling out after the interesting lecture by Professor Benedetto Gui, from the Department of Economy at the University of Padua. Their chatter is seasoned with laughs and their dialogues start in one language and finish in another (yes, there are at least four languages that are used simultaneously here!).
In his presentation, the professor broke down one of the most commonly held paradigms of our age and showed us how the increasing of economic wealth often happens at the cost of human relationships and well-being.
So what is his formula? To stop using the GDP as an unquestioned indicator for the welfare of the nations.
 On the third day's morning, the team formed by the 40 participants, though a bit tired after a Parisian night, does not give up. Instead, they take a flying start!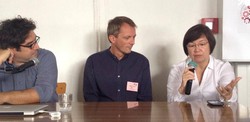 Vittorio Pelligra, professor of economics at the University of Cagliari, talks to us about the role of incentives in the management of a company. Incentives are a bonus given either in money or benefits, paid out to the employee for the reaching of some goals. It is a widespread practice in the corporate world, however it has been found incapable of motivating the capacity we need the most: creativity.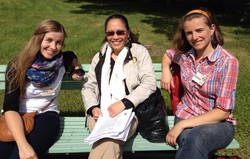 The next speaker was Miguel Angel Garcia Cestona, professor at the Autonomous University of Barcelona, who suggested to future entrepreneurs to concentrate on the creation of a new value rather than on the obsessive reduction of costs
In other words, using the image of a fine Parisian pastry shop, the professor dissuades us from grabbing a bigger slice of the same tart, but invites us to invent new tarts instead, in order to create new opportunities. Some challenging tasks for our dream team!