In the smiling citadel of Arny finally starts the EOC Summer School 2014!
by Giuseppe Ruggiero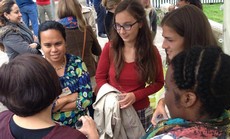 Our venue is surrounded by the green hills of the French countryside 40 km from Paris and a lot of fraternité. The group of participants consists of 40 young people from Europe, Africa, Asia and America and is supported by an impeccable staff, as well as entrepreneurs and professors of international calibre.
It is precisely the latter to welcome us in this gloomy morning. Anouk Grevin, professor of management at the University of Nantes – France -; Vittorio Pelligra, entrepreneur and professor of economics at Cagliari – Italy -; Benedetto Gui, Professor of Economics at Padua – Italy - and Luigino Bruni, professor at LUMSA of Rome and columnist of the Italian newspaper Avvenire.
To open the dance floor is Luigino Bruni with a lecture on the relationship between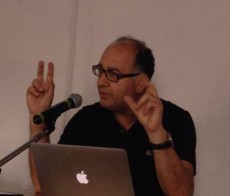 happiness and the human being. He reminds us of the ancient and deep ties that this term had with work and vocation starting from Socrates, passing on to biblical references. Then he shows us how happiness cannot exist without the other. And as the pearl is born from the oyster's suffering, it is precisely in this fragility that its beauty lies. Dependence on the other is both a blessing and a source of suffering.
All in all it was a real dive into the ocean of the economy of communion and civil economy for the uninitiated.
Trust and cooperation (non-competition) are the key words of this first day at Arny. Next came the inspirational testimonies of some EoC entrepreneurs.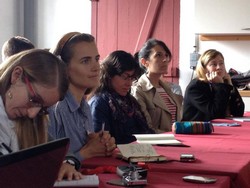 Laurent Thiery, owner of Charpente Thiery Laurent, has a filial relationship with his employees (the French word for boss/leader, patron derives from the term father), he has established with them what he defines as a real and true pact of love. Pierre Frecon, founder of Financiere Florentine, reminds us that the distribution of value across the enterprise must not omit the community outside the company.
Finally Teresa Ganzon, and her husband are the owners of a rural bank in the Philippines, and they  base their EoC membership on three pillars: helping the poor, reinvestment in the company and support of external projects.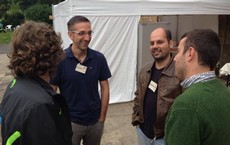 Late in the afternoon it was time for group work. There is something for all tastes here, in this laboratory of communication, research and entrepreneurship.
The last was a real blast: more than two-thirds of the participants attended! Reason enough for good hope!
The 2014 Summer School in Paris has now officially opened. Following this phenomenal start it cannot but go even better!