Testimony by Ernesto Figueredo from Cuba, one year after the EoC International Summer School 2013 in Madrid
by Ernesto Figueredo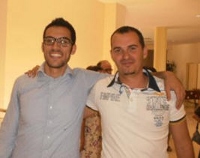 We belong to the same family. His name is Fabio, he is Italian, and four days before taking this photo together we didn't even know each other. So how come we are so closely connected now? It's called communion, it's called fraternity. It's a phenomenon that unites people even if they live far away from each other and speak different languages. This dimension has also manifested itself in the economy..
I had studied the EoC and its expressions in social and integral economy for three years before joining the Summer School, but to read books, watch videos and follow the relevant news on Internet is one thing – to spend entire days with entrepreneurs, professors and students of the EoC from the whole world is quite another.
Leaving Cuba
At first, my eyes were clouded by curiosity and excitement. I could not believe it. Leaving Cuba is very difficult, it is always a desired but often traumatic experience. In fact, my friend Kike (Yosniel García) was unable to attend, even though we have been walking together from the very beginning of the EoC in Cuba. I was thinking of Kike all the time, knowing that I was there for the both of us. So I felt a great responsibility to live this experience in depth and learn from it for the both of us.
Much more than a summer course
To learn about other cultures through the people you meet, their language, what they eat, how they dance... it's always something beautiful that enriches us. But if we add other things to this like the enormous wealth of knowledge transmitted by the teachers, excellent organization, a place with really friendly people, a wonderful atmosphere and above all, a spirit of dialogue and a desire to get to know and understand each other among all those present... the end result is much greater than the sum of its parts.
Each lecture, group work and the hours of free time were all moments of sharing. Notwithstanding the distance from home and being away from my family,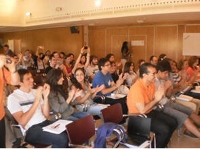 I did not feel lonely at all. Even when I was on the plane I heard that Jesus was there with me. Why me? Why now? Why Spain? Why the EOC? Maybe I still do not have a definite answer. However, my daily commitment to carrying on the EoC in my city, with the people and organizations that God places in front of me, in the courses where we teach management tools to small businesses, in the accompanying of businesses, cooperatives and entrepreneurs, in the promotion of the person from the perspective of a more fraternal, just and free economy that is in harmony with the environment... that is my answer.
The visit to the EoC company Fitosanitarios of Francisco Toro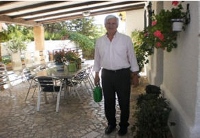 Before the Summer School started, I had the opportunity to visit an EoC company. It is located in a small but beautiful town called Jaén, in the region of Andalusia. Its protagonist is Francisco Toro. This company does consulting, development and commercialization of products for the agriculture of the area, almost entirely engaged in the growing of olive trees.
Following the motto of "doing things the way I wish others did them ​​to me," Francisco (Paco) has developed an organization focusing on customer needs, developing products and services that enrich and cultivate the land without destroying biodiversity, making sacrifices of costs and margins to aim at the highest quality, while retaining all the jobs even in the midst of the crisis, paying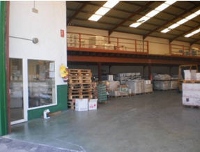 higher wages than the industry average, and creating a work environment based on freedom, trust, professionalism and ethics.
 Paco's way of doing business has reached to the other side of the Atlantic Ocean. He has worked in Chile and Bolivia to promote the companies based on the principles of the EoC. Always paying respect to the culture, knowledge and reality of these companies, he has promoted ethics and responsibility in community enterprises.
When I was heading to Madrid for the Summer School, I said to my friend Paco that even if I had to leave and return home at that very moment, I would have already been bringing a lot of the EoC, Spain and friendship with me to Cuba. Whenever I plan a new EoC economic activity, my constant reference is "Francisco Toro-Fitosanitarios". I would like to be able to instil the same atmosphere of trust, professionalism and ethics transmitted by Paco, my friend from Jaén and the EoC in my teammates.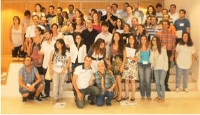 I feel Paco and all the friends that I met at the Summer School very close to me in Cuba. Somehow they have all come with me. The Summer School did not end on 15th September 2013 because thanks to it there are many friends now who want to make a testimony of love, brotherhood and truth in the workplace, in families and among friends.
Thank you all for the communion!