What are the motivations of a young person to dedicate an important space in his life to the Economy of Communion and to live it with passion? Interview with Francisco Buchara
by Carolina Carbonell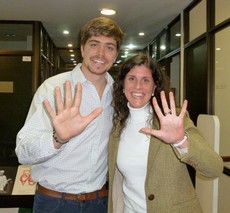 We are talking with Francisco Buchara, Fran, as his friends call him. The eldest of six children in his family, born 26 years ago in San Nicolás (Argentina). In 2012 he took part in the 1st International Summer School in Lisbon. Graduated in company administration, he is now responsible for "Productive Development" in the town council of San Nicolás. His entrepreneurial project entitled "Sustainable Hangers" was developed with the help of two other young Argentinians and it won the prize for best Business Plan in a competition organised by several Argentinian institutions. A few months ago he presented his thesis entitled "How to transmit the principles of the Economy of Communion in a company? Through the organisational chart and internal relations"in front of a very serious and demanding jury.
A few days ago Fransisco married Rosario, who, during the ceremony, described him this way: "Fran likes to stay with his family or friends, he likes sports (all of them), fruits, organisations and above all, the waves. He likes swimming very much and I always say that his natural habitat must be water. His great dream is: 'to change the world'".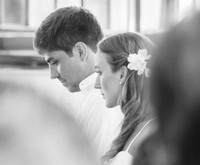 Fransisco, how did you get to know the Economy of Communion and what exactly attracted you to it?
One day, in the thick of the 2008 financial crisis, I felt very confused as I was leaving from a class of microeconomics. I was trying to understand a neo-classical theory that did not seem to be very consistent with reality. In that specific moment I saw a young man of my age who was searching the waste bins right in front of the university. "Why is he looking for something to eat in the waste while I am stepping out of the university building?" this is what I asked of myself quite simply. It was this question that drove me to get to know the Economy of Communion project. Among the many people involved in it I got to know John Mundell, president of a well-known North American EoC company. As a student I was given the possibility to do an internship in his company and this was an incredible opportunity to get to know the EoC not only in theory but also in practice.
Tell us a little about this experience…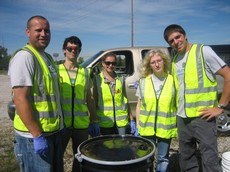 I had been with Mundell & Associates for two weeks when John Mundell, the boss, calls me and tells me this: "Fran, have you thought about your own project for this summer yet?" And he even further-specified the question: "How do you think you will add value to the company?" The perplexed expression on my face was a telling answer and John understood right away that I had nothing concrete in mind. Upon leaving he added: "No problem, Fran, but I want you to present some ideas to me this week." On my way back to the place where I stayed, the words of the president of Mundell & Associates echoed in my mind with ever increasing strength and they started to worry me. I tried to calm myself down: "It's been a week that I am here, I haven't got used to having dinner at seven in the evening yet and John is already asking me to add value to his company..."
And is this how the idea for your thesis: "How to transmit the principles of the Economy of Communion in a company" was born?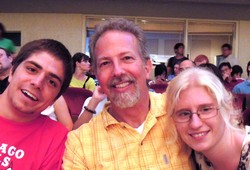 The next morning I got back to the office a bit earlier than usual, I took a paper and pen and started to write down, black on white, all the ideas that passed through my mind. I was trying to remember all the things that I had seen at Mundell & Associates and to link them with my personal capacities and the concepts I had learnt at university. After some brainstorming and long conversations with the president and my colleagues at work the "How to pass the EoC ball?" project was born; a simple question that aimed at providing the answer to one of the greatest challenges that companies driven by idealistic motivations like those of the EoC have. That is: the transmitting and diffusion of these ideals by the leader/founder to the other members. The very fact of EoC being something that has to do with "ideals" does not allow for having this written in a contract - instead, it remains a free choice with no payment in reward. So I tried to focus on this problem inside Mundell & Associates organisation structures in order to show how it can be given expression in the company organisation chart, coming up with a few suggestions in the end that would facilitate this transmission.
After this experience you had the opportunity to deepen your knowledge of the EoC in Italy, studying at Sophia. What did you realise there?

While studying French philosopher Paul Ricoeur I realised that the question I posed to myself that morning at the exit of the university - "Why is he looking for something to eat in the waste while I am stepping out of the university building? - was in fact not coming from me but from that young person in need. Ricoeur - as the professor explained - shows us that one starts to live ethically when one responds to the requests of help by a vulnerable, fragile person; and he made the example of a newborn baby that cries because it is hungry. When "that response" becomes a personal vocation, it is then that the individual finds their own identity according to the strength of their response. Thanks to that young person I managed to realise that the desire to change the world in me is not pushing me towards the big companies but towards work with people abandoned by modern society, through social innovation. Therefore my work is nothing but an attempt to respond to that question that I think will accompany me for a long time and that I will have to account for at the end of my days. 
Defending a thesis like yours must be a real challenge. Can you tell us how the exam commission reacted?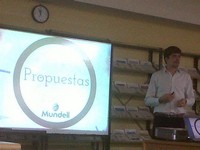 It was difficult, especially at the beginning: to choose a supervisor, to provide a structure for the case... Then it was very hard to find adequately informed professors for this topic (there aren't many of them capable of tuning in to the frequency of the EoC transmission). Luckily, a sociologist and an economist were picked to be in the jury, and I could relate to them in terms of the research of an alternative and the actual paradigm. To sum it up it was a big challenge, even if it wasn't very difficult to discuss my topic having an audience of about 30 people, which was exerting an "indirect pressure" on the jury (he says laughing). After this, some students decided to continue my research and together with the university we are organising meetings with young people and entrepreneurs that have found inspiration in this type of logic.
Would you tell us about the "Sustainable Hangers" project that won a prize as the best Business Plan for you?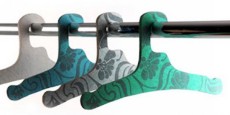 The project is about the production and marketing of hangers that are made 100% out of recycled paper. The products are intended above all for a "B2B" market, that is, clothes shops that are open to innovation and want to make a difference. It is our intention to change the traditional concept of hangers and make it become a new platform of marketing for different brands that could personalise the hangers with their logo and colours. Then there is also sustainability as a central value and now we would like to start work with cooperatives of paper.
What was the prize?
Apart from a sum of money, we also won membership for one year at JCI (Junior Chamber International) and a 3-month stay in Njambre (njambre.org), a social business accelerator which also works as a space for co-working where the EoC is very well perceived. But the most important thing was that our project's validity was confirmed and the spreading of it that we have been able to achieve through the most important newspapers and journals of the area.
Congratulations, Fran. So long as there are young people like him, there is a future. Also for the EoC.
Translated by Eszter Kató