When the risk a bank takes returns a great human value that benefits the total growth of a community
by Emanuela Maria Cavaleri
from the Report EoC 2012-2013, in "Economy of Communion - A New Culture" n.38 - Insert in Città Nuova n.23/24 - 2013 - December, 2013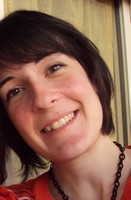 Melanie is 23 years old. She lives in a small city of the Philippines. Every day, she travels several kilometers to work, crossing paths with dozens of women. These are "poor entrepreneurs" who, thanks to the micro loans that Melanie obtains for them, can grow their businesses and be creators of their own wealth.
Melanie is an employee of a bank, but not just any bank. She works for Bangko Kabayan which besides being a successful rural bank, is also an EoC business. Last summer, as part of my studies in international cooperation, I had the opportunity to carry out a two-month internship at Bangko Kabayan and to witness the extraordinary mission of aiding the community, a mission which this bank carries out through Melanie's work and that of many others.
The microfinance loans that are made to single individuals or groups (mainly women), are perhaps the most interesting instruments through which Bangko Kabayan carries out its delicate mission.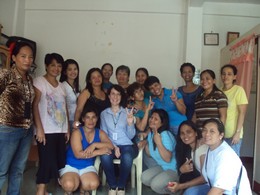 Teresa Ganzon who manages the bank together with her husband, Francis, explains to me, "Microfinance is an exact science. In fact, it is enough that when some customers begin to fail in repaying their loans on time, the bank's operating costs begin to soar." These loans are small-scale (normally they do not exceed 300 euros); they earn very low interest for the bank (about 2 percent per month); and are released without guarantees.
To be able to offer this service, however, the bank bets a lot in terms of costs; at the same time, it must be careful not to put at risk its customers' savings. So far, however, the bet Bangko Kabayan has made to grant these loans has been winning. Customers repay the loan regularly, as they develop their own mini-companies and even put aside some savings. The discipline and sense of responsibility that customers experience and cultivate in themselves are a source of great pride for them and for the bank.
Here is where cultural values meet and paint in real life colors those EoC-inspired values upon which the bank is founded: unity, integrity, excellence of service, faith in Providence and development of the community – a community that for fifty-six years has never failed to show genuine gratitude.
Microcredit - an example
Since June 2012, Bangko Kabayan Branches has made available an agricultural micro-credit product that aims to extend financial services to farmers, ranchers, poultry and livestock growers, fishermen and others in the fishery industry, as well as the production of rice and other food crops such as small-scale fisheries and livestock growing.
Henry and Virgie Enriquez have been farmers for the past seven years. They grow bitter melons on 3 hectares of rented farmland located in Pinagbayanan in the village of San Juan, Batangas. They pay an annual rent of $225.00 per hectare. Enrico Enriquez is an active member of the local association of farmers and attends seminars of the Department of Agriculture to improve his farming. His brother is also a customer of the bank's microcredit financing and all the members of the family are into farming.
The Enriquez couple are now into their fourth loan cycle with Bangko Kabayan. Through these microfinancing loans they were able to launch two small companies within one year that complement each other. Their first loan in July 2012 was $455.00, followed by a second loan of $900.00 in September of the same ear, and still a third loan of $1,135.00 the following January,2013.
Last February they opened a small retail shop at a total project cost of $1,360.00. Daily sales of this business now run to about $91.00. In June this year they received of an additional loan of $1,135.00 to purchase a second-hand pool table from which they earn an additional income of 15 cents per game. Today the daily income from this venture amounts to $15.00. These income streams will allow the Enriquez couple to enroll their daughter Angelica in the university next year.
This new agro microcredit product has enabled Bangko Kabayan to reach a sector which represents 70 percent of the rural Philippine population – often, the sector most exploited. After several loan cycles, some customers have now been transformed from debtors to depositors.
2014 Summer School
The Youth and EoC Project, which financed several summer schools at the national and international levels in 2013, will continue in 2014. Planned for 2014 is the third edition of the EoC Summer School in France, Mexico and Kenya. In Italy the third edition of the EoC Workshop/School will be held at Loppiano.