Two young economists have assessed the validity of the current system of allocating contributions in various areas of the globe 
by Luca Crivelli
from the Report EoC 2012-2013, in "Economy of Communion - a New Culture" n.38 - Insert in Città Nuova n.23/24 - 2013 - December, 2013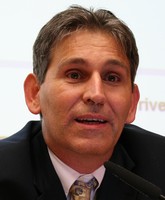 In August 2013 "A Technical Report on Social Assistance in EoC" prepared by J. Debbane and C. Viano, two young economists (the former, a Syrian, and the latter, an Italian) on the functioning of the EoC system of aid to indigents, was handed over to the international commission of the Economy of Communion. The report was financed by an AIEC scholarship at the Sophia University.
The objectives of the research were as follows:
1) Identify the presence of any gaps in the data collection device and in the presentation of the same.
2) Analyze the information available to come up with a picture of the activities carried out between 1992 and 2012.
3) Make recommendations to improve the current system.
The study proved to be very useful both for its analysis and impact on future developments. The researchers have stressed that the information collected today does not allow you to fully understand the reasons that have influenced the evolution of requests for assistance. As shown in the graph above, assistance for 4,400 people in 1992 (i.e., 5 percent of our communities) had reached 11,000 in 2001 (an increase driven primarily by war situations in Africa (as well as other factors) before falling to the current 2,200.
Unfortunately, the type of information gathered does not allow us at the moment to assess whether the interventions implemented (in the field of assistance in education, health, and housing) have healed the various forms of poverty while generating reciprocity and communion.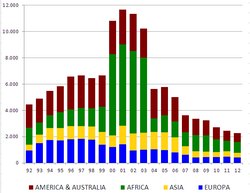 Another interesting finding is the strong heterogeneity among practices in various areas: in some situations, 95 percent of the aid requested was temporary in nature, while in others, more than half of the beneficiaries received aid that was permanent. Also, the amounts distributed per capita in some of the larger regions showed significant differences (ranging from 9 to 30 percent of the salary in use), despite these being countries characterized by macroeconomic situations that are basically comparable.
Finally, the study highlighted the usefulness of establishing an observatory on poverty, making it possible to know and ensure better accounting of the action taken in support of the poor, while stimulating reflection and comparison among areas of intervention, to identify on the basis of objective criteria, the right recipients and implement interventions that are more effective. All this is addressed without compromising the culture of proximity (the real strength of the network of local communities upon which the system of aid distribution rests) and without unnecessarily weighing down the bureaucracy.
Chiara Lubich has in fact encouraged us to understand in depth the needs of our most deprived ("But who are these brothers of ours? I know them, and I've seen some of them in pictures: smiling, dignified, proud to be sons and daughters of God and sons and daughters of the Focolare. They are not lacking in everything, but in some things."); and Chiara has taught us that poverty is not only a condition of the individual, but also and above all,
the sum total of broken relationships which can be cured only through a relationship of brotherhood in reciprocity. Francis of Assisi, by kissing the leper, confirms that it is never a "relationship of immunity" but one of openness to the possibility of "contagion."