At the Lionello Bonfanti Industrial Park, a seminar in preparation for Settimane Sociale, organized in collaboration with the Luigi Sturzo Institute and Polo Lionello
What kind of entrepreneur is need to overcome the crisis?
Reflections and experiences based on Caritas in Veritate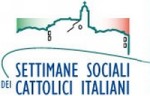 June 17, 2010, at 14:30
Lionello Bonfanti Industrial Park
Burchio
Incisa in Valdarno (FI)
In these times of new challenges, potentials and worries, the entrepreneur and the business are called to new responsibility. How can efficiency and solidarity be united? Charity and justice? Market and gift? Needs of the territory and globalization? How can work be created in new complex and uncertain scenes? Are there actual experiences that can serve as an inspiration? During this seminar, we will try to answer these question and others through alternating theoretical and cultural reflections and experiences of entrepreneurs.
Alessandra Smerilli, member of the Settimane Sociale dei Cattolici Italiani, will open the seminar with a introductory greeting on "undertaking" to return to growth. This will be followed by a presentation by Luigino Bruni, titled "The Civil Business: a Italian Pathway in the Market and the Economy", and a round table discussion including: Mauro Magatti, Dean of the Sociology Department, Catholic University of the Sacred Heart, Milan; Johnny Dotti, Welfare Italia and Andrea Granelli, President of Kanso. Finally, there will be experiences by entrepreneurs and conclusions given by Edoardo Patriarca, Secretary of the Organizing Committee for Settimane Sociali.

See Complete Program