In Padova, on April 26, Luigi Gui, 95, passed away. He was one of the last "founding Fathers" of the Italian Republic and father of Benedetto Gui.
Luigi Gui, an inheritance to accept
By Antonella Ferrucci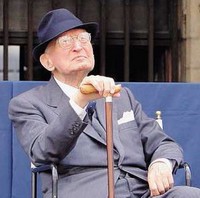 On the evening of April 26, along with
Luigi Gui
went one of the last "Fathers of the Republic", of that Italy which, having left the horrors of the war and of civil war, had the courage and strength to put back the foundations of civil co-habitation with the drafting of the Constitution.
Born in Padova on September 26, 1914, and graduate of the Catholic University of Milan, Gui entered Parliment with the Founding Assembly in 1946. During the 1960s and 1970s, he held various positions of responsibility in the government, including Minister of Internal Affairs and Minister of Public Instruction.
As a Catholic, heir to the traditions of Don Sturzo and Dossetti, Gui believed in education as a decisive factor in civil growth. In 1962, in full economic boom, hedecided to reform the institution. He worked to eliminate entrance exams to middle school, and he raised the age of required schooling to 14 years old, putting an end to early professional life in children. This allowed many less well-off families at the time to give their own children a chance at better education as they could reach higher levels.
On April 27, little after 4:00 PM, Rosy Bindi announced the death of Luigi Gui in her classroom at Montecitorio. There was an immediate applause and then a moment of silence. Then, right afterwards, Margherita Miotto, deputy of the democratic party, commemorated Gui. Through tears, she said, "I cry over a teacher who marked the political scene, a true Catholic that defended the lay state. We owe him a great part of the civil and cultural advancement of our country. He is father of first-class, secondary school reform, and he also begun university reform. Fifty years later, we´re still there. Gui was an extraordinary person who did not hesitate to speak in many assemblies of youth and students to give witness to the deep values of our Constitutional Carta. We owe much to this man..."
We would like to remember him with the words of his son, Benedetto, who has been a scholar of the Economy of Communion since its beginning and is a member of the International EoC Commission. "My father," said Gui, "together with those around him, wrote a beautiful page in the history of his time - one which says that Christians have something to give to public life. From his involvement in Catholic Action and the university, my dad received formation to the common good and had many companions with whom to share and cultivate a strong civil passion which flowed into a project for society. It was one which responded to the needs of Italians after the war. I am grateful to my father, but I am also grateful to all that surrounded him and formed him."