This wednesday in Madrid opened the 2nd EoC Summer School: the participants summarize the day.
by Elena Ranocchi, Joan Rodriguez, Alejandra Vàsquez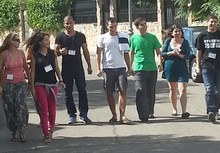 Hello everybody from Madrid! In the 2nd EoC Summer School we are participating about 50 young people from 19 countries and the Spanish Commission of the EOC has received us as if we were "family"..
This first day of introduction has given us the tools to prepare for the busy week of work. We start the program presenting all of us: students, teachers, businessmen and other people present. Next, the introduction of Luigino Bruni entitled: "The Culture of Giving vs. consumerism". in which Luigino have presented us the Economy of Communion from historic point of view, to describe the main features of the Culture of giving. And then, the Mary Salas and Antonio Marquez presentation on "Justice and relational Economy of Communion" .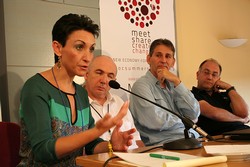 Maria and Antonio have presented the innovative challenge of justice as a "dynamic relationship" which rises from the relationship between the institutional and reciprocity. Luca Crivelli from his part has explained us "The approach to poverty and development EOC compared with other forms of social enterprises" . Are 3 different types of organization in ideal parameters ( VBOs - Value Based Organization): social enterprise school, social businesses, e social cooperatives. In each of them, Luca has drawn analogies with the EOC model, emphasizing its specificity .
 In the afternoon, we split into groups: the goal? To meet us better and try to answer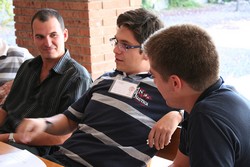 the first question Luca Crivelli proposed to us: "Which conditions (if any) are necessary to make sure that EoC becomes a viable approach for many (old and new) businesses? What is needed to scale-up the project?" In addition, we made a spot, a short video to encourage other young people to know the EoC. At the end of the week, the work of each group will be presenting to all.
And to end the afternoon, a Julio Gisbert lesson based on: "Living without employment. Social currency , time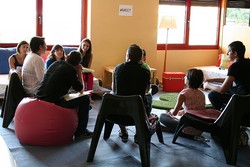 banking and other social initiatives". Julio has shown us how the reality of the crisis has developed alternative forms of exchange as an alternative to the capitalist model, that involve greater collaboration and mutual aid initiatives through local experience. The specific objective of the time bank is to enrich people's self-esteem: who has lost his work can found through the time bank different forms of interaction and discover talents that remained hidden. Another interesting aspect is the social currency, which has the characteristic of not being able to accumulate as legal money.
We would like to conclude our first "report " with a St. Augustine's sentence which said: "If you meet someone, do not ask him what he thinks, but what he loves!" This will be our challenge these days!