Interview to Teresa Ganzon, an EoC businesswoman born in the Philippines. She's coming to the 2nd EoC Summer School to share her knowledge and experiences…
by Ana Moreno Marín
T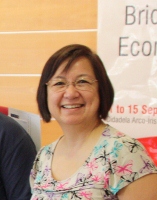 eresa is currently the CEO of Bangko Kabayan, a rural bank in the Philippines that promotes small business projects. How does it work?
The economy of the countryside is really brought ahead by the micro, small and medium enterprises so we exist to be a partner in their development.
We really need to serve this significant sector which still has a sizeable number of entrepreneurs and farmers unreached by larger commercial banks.
Concerning microcredit, how do you deal with the lack of basic resources from a part of your clients while building a loan/business project?
The most basic resource we look is the client's own – passion for business, basic knowledge and instinct for recognition of business opportunities… In other words, the entrepreneurial spirit and native ability, which includes persistence in facing difficulties and willingness to persevere. Given these, we can make up the difference in needed material resources by providing capital, introducing savings and today, even micro-insurance.

What are the main challenges in giving life to an EoC enterprise in your opinion?
An EOC entrepreneur faces all the challenges a normal entrepreneur does, plus the challenge of building communion along with them! So to live this commitment day in, day out with all its implications in facing employees, managers, community who expect to be not only "satisfied "but "delighted" – while absorbing bigger costs in formation of "new men" within an organization –this is a big challenge! To perform excellently and efficiently without losing love, sharing and caring as core values.

How do you see the contribution to EoC from countries where poverty is sometimes severe, like in the Philippines?
The experiences of people who, with a little help, have been able to overcome their own situations of hopelessness, misery or dependency – this can be a great contribution to the development of a new economy, a great inspiration as it can illustrate how far sharing, above all, a relationship of brotherhood, with those in need can go towards redeeming them from poverty.

Why do you think young people are important in building a new economy?
Young people are the future. The society of tomorrow will be shaped by the young people TODAY. If no change happens among them, then the misery of the world continues till it explodes into something that can destroy us all.

You must be pretty busy with your daily occupations. Why are you coming to the 2nd EoC Summer School?
I was a young person once – who dreamed of a better world, a better economy. Having found it happen in the EoC, having had the grace to live it as an entrepreneur and make new discoveries, there is a great desire to share this with others, but especially the youth. I hope that as I did not lose hope, neither will they and that through this school, the participants may validate that the world CAN be better and THEY can be an active proponent of this better world.