Madrid 2013: II International Summer School Online Enrollment until July 31.
By Ana Moreno Marín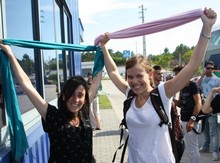 Participants from nine countries and four continents have already enrolled in this year's Summer School: Africa (Tunisia), Asia (Korea), America (Cuba, Ecuador, Argentina, Brazil) and Europe (Ukraine, Italy, Spain). 19 to 35 year old EoC sympathizers, students, businesspeople, researchers and employees may take part in the program. Who has registered so far? A few workers from the 861 EoC companies, students, researchers, entrepreneurs and employees from large companies (who believe business can be different). For them the II International Summer School means a lot more than an ordinary course.
Isaías Hernando, president of the EoC Association in Spain and organizer of the event, tells us that "the youth take the Summer School very seriously. They invest time and money to come. A South American young worker for example used her one-year savings to register; unfortunately she still hasn't got enough."
Various motivations inspire the youth to enroll. A few Cuban youth wish to introduce in their country a non-capitalistic economic practice, alternative to socialism. A group from Ukraine is developing a Christian leadership program for youth to face the post-communist social challenges. A young Tunisian believes the EoC complements the aspirations of the Arab Spring. "Unique backgrounds promise to make this School very special" said Hernando.
Practical and dynamic program
EoC renowned scholars will offer lessons in the morning and students will take part in workshops in the afternoon. Various activities will entertain participants in the evening: a chill-out evening, a concert, sightseeing, and a traditional Spanish dinner. "In these evenings", explained the organizers "people may socialize and build relationships. Besides studying this Summer School offers a life experience".
Answer to the crisis
The last year's Summer School in Lisbon was successful. The second edition wishes to move beyond and tackle today's most pressing globalized issues: hunger, inequality, unemployment, forced displacement, etc.. Individualism and consumerism has failed to fight these problems. As an antidote to them the "Economy of Communion (EOC)", a world-wide initiative, proposes the "logic of Giving", inspired and born from the dynamic of an encompassing fraternity.
See brochure of program.
Further information:
Mail: This email address is being protected from spambots. You need JavaScript enabled to view it.
Facebook: 2nd EoC Summer School
Twitter: @ eocsummerschool2013