Call to enroll by 31 July, at the 2nd Economy of Communion Summer School to be held in Madrid from September 11-15, 2013.
Download the

information sheet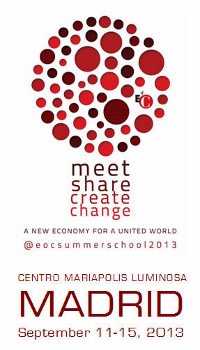 The program of this 2nd EoC International Summer School entitled "A new economy for a united world" is attractive. The course serves young students, professionals and entrepreneurs, between 19 and 35 years old, interested in exploring the Economy of Communion.
In the morning there will be lectures taught by relevant university professors and prominent members of the EoC worldwide. Luigino Bruni (Italy), Luca Crivelli (Switzerland), Anouk Grevin (France), Vittorio Pelligra (Italy) and Teresa Ganzon (Philippines) will hold lectures.
The afternoon will offer workshops; participants will have the opportunity to exchange views on real issues (based on personal experiences). They will work on specific situations with other young people from different cultures and nations. Participants can choose between:
1) Working on business plans.
2) Working on theses or research projects.
3) Discussing about the challenges faced by EOC companies and suggesting ideas or solutions.
The school is a unique opportunity to learn in depth with young people from different countries how to manage EoC companies, think about poverty and share ideas, concepts and experiences that kindle passion, enthusiasm and creativity.
The official language is English.
Participation is limited to 80 people.
Costs: the fee of 220 € includes enrollment, room and board for 5 days, airport transfers and a tourist visit to Madrid with dinner out. Especially those who will come from far away may apply for scholarships.
Registration: Fill in the online application form and send your CV by email to This email address is being protected from spambots. You need JavaScript enabled to view it.. Organization will confirm the registration before July 31.