Synthesis of a year of EoC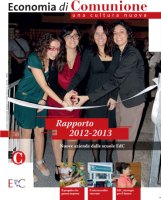 This year the EoC Report 2012-2013 is again a special issue of the Bulletin Economy of Communion, a new culture, which reaches its no. 38 by this publication.
The choice is dictated by the opportunity to extensively widen the reach for data on the Economy of Communion this year. Published with the single number for December 2013 of Città Nuova, n.23/24-2013, the EoC Report will reach 46.000 printed copies which will arrive to all subscribers of Città Nuova, plus those who requested it during this time.
A whole year of Economy of Communion: the data and news reported on the EoC Report go from September 2012 to September 2013. It not only gives all the destinations of this year's profits in a synthetic table, but also is characterized by the reflections shared in a recent meeting in Portugal on the strategy to be taken from here to the immediate future to make the service to the needy and to businesses more effective. There is more: you can read about new businesses that are the fruits of the Young People Project (because they emerged from the EoC Schools), about Microcredit, which is really at the service of people, the results of the 2013 study on the impact of the Economy of Communion on poverty, the Brazilian project called Aproagro, the relationship with Sophia University, the synergies that can arise between the Productive Poles and EoC Associations.
Characterizing this Report is the introduction by Alberto Ferrucci on the life of the EoC of this year and the conclusions by Luigino Bruni on future prospects. We could not do without the ad hoc contribution of Formy this year either.
The report is available online: we invite you to download it and read it. Have a good read!
NB: The Report is available in Italian at the moment, but the English version of the Report will also be published shortly.
The Report (in Italian) is available fordownload here