"Economy of Communion - a new culture" issue N. 29 is online! It´s dedicated completely to the:
2009 EOC Aid Destinations Report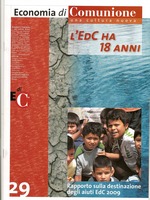 Starting this year, a special edition of the newsletter, "Economy of Communion - a new culture"  will be dedicated to the Annual Report on the destination of EOC aid. This allows the maximum spread of what was thought up as an instrument of "reciprocity" and communion among all actors of the project, including: the entrepreneurs that annually give their profits generously and trustfully, the many people who help make the EOC project a reality by their communion of goods, AMU and its private and institutional representatives, and all who ask the EOC to be always more capable of giving an account of the communion that is lived and promoted.