Meeting with EoC entrepreneurs
Chiara Lubich's address
Loppiano, May 17, 2003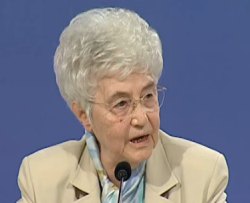 Dear entrepreneurs and friends, We're gathered here at the conference of the Italian entrepreneurs for the Economy of Communion. I read the program and have found it engaging and fulfilling.
I was also asked to address the conference.
I accepted the invitation with all my heart since, as you probably know, I love the EoC very much. Among the reasons for this are that it offers visibility to our Movement in the world and glorifies God.
So, may this be a short address.
For this to be useful I decided to answer two general questions that might intrigue those who deal with the Economy of Communion.
The first one is: "What is the most important aspect of this project?
There are many aspects that have to be considered when speaking about the Economy of Communion. However, the most important fact is that it isn't the work of men, but of God. It wasn't planned by any of us, but it's the fruit of the Focolare Movement; a tree planted in Heaven. Each fruit grows from the same substance of the tree it comes from. In this way the Economy of Communion is a work of God.
I invite you to look at it from this perspective and, when working for it, remember that its nature is divine.
What does it mean to be a work of God?
It means that God is under control. God guides us and our circumstances and in such ways is the first to act.
On one hand the circumstances God used to start the Economy of Communion are well-known.
I had already visited Sao Paulo, Brazil many times with friends. However, in 1991, for the first time, I realized the city was infected by a scandalous contradiction, which I called the city's "crown of thorns". In the center there was the kingdom of the rich, a jungle of skyscrapers, and yet surrounding it were the poor in their countless favelas. This contradiction was the circumstance that God used to call us to action.
On the other hand, as far as instruments are concerned, God invites you entrepreneurs to work for the Economy of Communion.
However, to do so you must accept a deal. You agree not to take the initiative; rather you must let Jesus work through you, as Jesus lives within you. Only He is capable to build a work of God.
When can I say that I no longer live, but that Christ lives in me? When does this transformation take place? It happens when love takes over our lives. In fact, if we love then Jesus is in us and will guide us with His light.
We all know the special kind of love that allows Jesus to live in us. Even the gen 4 know it; they wrote it down on the sides of dice.
However, I insist on repeating this again and again since, no matter how well we think we know it, we never live up to it.
To live this kind of love we should follow Jesus' example. He's our ideal. He lived up to His own words: "Greater love has no man than this, to lay down one's life for one's friends" (John 15:13).
This love requires us to lay down our lives intentionally, putting our thoughts aside and making others' suffering, worries, and joys our own.
It knows no form of discrimination and requires us to consider every man a brother, just as Jesus did. He died for the salvation of every man and woman from the past, to the present, and in the future.
It's not easy, but it's possible with His grace.
It urges us to take initiative and be the first to love. In fact, that's how God loved us. As sinners we didn't have the capacity to be the first to love God.
This love does not consist only of words or sentiments. It is expressed concretely in Jesus who overcame the greatest trail, being forsaken by the Father, and then gave His life for us.
Jesus loved us and taught us to love one another. He commands "that you love one another as I have loved you" (John 15:12).
Yes, this is the love that is asked from us. This love should flourish and grow within those who are willing to dedicate their lives to the Economy of Communion.
The second question is: "Is the Economy of Communion up-to-date? Is it still relevant?"
I'll answer this by taking a look at what is going on in the world.
We live in a global village. September 11 2001 was a disaster in many ways and it uncovered an enormous danger to us all: terrorism. This threat is different from traditional wars. 40 wars are ongoing throughout the world as consequence of hatred, discontent, rivalry, and personal or collective interests.
Terrorism is the fruit of Evil with a capital E, according to John Paul II.
Human efforts against this warfare through diplomacy, political, or military actions are powerless. Only Good, with a capital G, can fight it and, as we know, only God and anything linked to God is Good. Only spiritual powers, such as prayer, are effective. Thus, the Pope's call for meeting of different religious leaders to pray for peace in Assisi was extremely appropriate.
Unfortunately it wasn't enough.
We know there are many causes for terrorism. However, the main one is the unbearable suffering due to a world split between rich and poor. From this social gap comes long lasting grudges, violence, and revenge.
Besides parity and equality we can say terrorism necessitates solidarity and the sharing of goods.
Goods don't move around on their own. For welfare to be shared, we need to reach out to people's hearts, uniting them into a single beat!
Only after when one is engaged in activities that seek universal brotherhood will they be able to completely share what they have.
Within its area of influence, this is exactly what our Movement works for. We always try to live as brothers, spreading love everywhere. Love is the basis of all our activity, and the same goes for the Economy of Communion.
According to the project, the purpose of profit is inspired by concrete love. Part of it is used to reinvest in the company allowing it to grow and give more. Another part is given to those in need, until they can provide for themselves. A third part is invested in training systems to develop "new men", i.e., people who live according to the culture of giving described in the Gospel.
Only when love is present at every level of action will the Economy of Communion be truly itself.
In the Economy of Communion, one strives to love everyone: employees, customers, suppliers, and competitors. Moreover, by obeying the law one loves the state, and by protecting the environment one extends that love to nature.
In this project company owners help, support, and inspire each other; supplying the needs of the others if necessary.
Therefore, times like these urge sharing of goods. In this way a project like the Economy of Communion, based on a culture of giving and where brotherhood is put into action, is up-to-date and very relevant in today's world.
I even take the risk of saying that the Economy of Communion is a prophetic sign.
It caught the interest of renowned economists and young researchers, many who do not know me. And to think, it all started thanks to my circumstances.
In 1999 I was invited to a high level congress on economic matters at the European Council in Strasbourg.
I wasn't allowed to talk to anyone about it before its opening day since very important people were invited, such as Gorbachev and Miss Thatcher. They ended up not participating, but discretion was required. Among the famous economists and intellectuals that addressed the event, I recall the Nobel Prize winner Tobin.
I was supposed to deliver a 12 minute speech on: "the Economy of Communion: the economic action project inspired by the spirituality of unity."
Dr. Alberto Ferrucci and Prof. Benedetto Gui came with me to answer the questions from the audience.
I introduced, very briefly, our small Economy of Communion project.
At the end of the conference, two of the event organizers thanked me and said that "The Economy of Communion gives us hope for the future".
This is why I dare to speak about prophecy.
A light in the midst of the darkness, as small as it may be, can be seen from very far away.
May the Lord continue to bless our Movement, the Economy of Communion, and all of us. With God's help we can make the impossible more than a dream.
Thank you!
Chiara Lubich
Translated by Cristian Sebok