EoC Business Parks, laboratories of a new economy
Presentation by Luigino Bruni
Giosi Guella Business Park (Abrigada, PT), November 6, 2010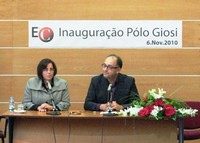 Let's go back to 1991, when Chiara Lubich had the intuition of the EoC. First of all, it was not the poverty in itself that scandalized Chiara, as much as the contrast between the skyscrapers of that Pauline Avenue and the "crown of thorns" of the barracks that surrounded them, which she saw while landing in Sao Paulo. Poverty in itself is not a scandal, because it is an endemic of humanity, from prehistoric times onward. What is scandalous is a society that, even while having the means to build skyscrapers, leaves children to die of hunger. That is where Chiara felt the urgency to do something. She did not launch a project in the middle of the city, in the faveles of Sao Paulo as what might have been the logical thing to do. Instead, she proposed something in the fields, next to the movement's small town: a business park with businesses that could produce profits to share. Why does a business park arise next to a small town and not in another place?
Because Chiara's intuition is not linked only to poverty. She intuited that if she wanted to change the situation, a whole city was necessary, with businesses, capitalism and culture. The small towns of the Focolare are places in which reciprocal love is lived and brings about a culture of fraternity. They are places where economic culture can change, where it is possible to give testimony to another way of doing economy. When a business park is born, it is born with this vocation: to be "a laboratory of a new economy", and this depends on each one of us to make it happen. Why do we think that this great challenge of the EoC is possible? Because, as in all charisms, there are people who have the vocation to the EoC, who have received a direct, personal call from God. In the world, and also here in Portugal, the EoC is going ahead because of people like this, who have a vocation. That is why it goes ahead alone.
When the first sailors returned after having discovered America, they brought the seeds of tomatoes, corn and potatoes, which were unknown in Europe, and they gave these seeds to farmers. They were good seeds. The farmers trusted, planted those seeds and waited to see growth in these unknown plants. Similarly, when a business park arises, a seed is planted that we know is good, although we don't know what the fruits will be. But since we trust who gave the seed to us, we cared for that seed with love, because we know that it will bring fruit with the DNA of paradise. This is faith, believing in the seed that is entrusted to us, knowing that it will bring good fruit. Throughout humanity's history, God has sent charisms to earth in moments of economic crisis. Charisms are an "already" that indicates a "not yet". The business park is also an "already" that indicates a "not yet". This is a big responsibility, and we need to be up to it.
Two aspects are particularly important for a business park that is born, from the point of view of its vocation: remembering always that the special characteristic of Chiara's charism is unity. We need to be perfect in this because if there is not unity at an EoC business park, nothing will work, the light of the charism will be lost. The second aspect that is important for the Giosi Business Park is its vocation to becoming a knot in the network of Portuguese social and civil economy. In fact, the business park's vocation is not only "building unity within" but also working to build unity with others. Every charism is normally enough for itself, so it is not natural to "put ourselves together", working with others. Instead, ours is the charism of unity. Therefore, helping the others to build unity is our special characteristic. We need to then think of the Giosi Business Park as a place where, within a few years (not too many!), all the other realities of Portuguese civil and social economy will be invited to know one another, to put on congresses and build a network.
That is why, even if others don't know it, today is a celebration not only for us, but for all the realities of civil economy in Portugal. I'll conclude with an African proverb that I love: "it takes a whole village to raise a child". Giosi Business Park is like this child. In order for it to grow well, everyone needs to feel that this "child", named Giosi Business Park, is their own.