The International EOC Commission and the "Associazione per tutti" are organizing a convention called:
"Charisms, econony and management"
experiences and reflections from the perspective of the Economy of Communion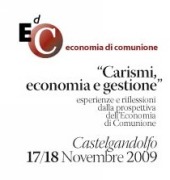 November 17, 2009 at 10:00 am
November 18, 2009 at 09:00 am
Centro Mariapoli
Via S.G.B. De Salle
00040 Castelgandolfo (RM)

"Charisms, economy and management" is the title of a convention to be held at the Mariapolis Center of Castelgandolfo, aimed at being a significant meeting between the EOC and religious institutions.
The convention is being organized by the International EOC Commission and is a step in the journey begun a few years ago between the EOC and various charismatic groups.
The need for such a convention arose from the shared desire of the associates of the "Associazione per tutti" onlus. They wanted to create an opportunity for reflection and exchange on how the experience of the EOC, together with other proposals, represents a good answer to the new and important challenges that the various charismatic movements and groups, religious institutions and orders are facing today.
Through contributions of presentors who will take turns during the two-day meeting, we will attempt to undertake a journey aimed at giving concrete answers to the questions launched by the economy of our time.
Interverranno:
Luigino Bruni – Professor of Political Economy, Department of Economy, University of Milan - Bicoccai Members of GM&P consulting network
Alessandra Smerilli – Professor of the Pontifical Department of Educational Science (Rome) 
The associates of Associazione Per tutti
For more information and sign-up:  This email address is being protected from spambots. You need JavaScript enabled to view it.
see invitation (italian)