Loppianolab, the 2nd Italian Convention of the Economy of Communion
"EoC: companies, projects and future"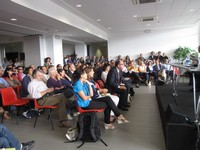 It is on Saturday, September 17, at Lionello Bonfanti Business Park, that the 2nd Italian Convention of EoC will take place. Last year in September we were left with the desire to repeat this experience and in effect, after the events in Brazil for EoC's 20 years since its birth on May 29, 1991, an Italian celebration could not be missed: companies with entrepreneurs and employees, scholars and all those with the most varied titles in Italy that are interested in the Economy of Communion will be able to meet, assess the achievements thus far and above all to explore together future prospects.
What does it mean today, in times of economic and financial crisis that we are living, to do business? What can new perspectives and elements offer in this Economy of Communion debate? What are the signs of hope?
On this thread there will be a reflection on today's Italian EoC, supported by testimonies of entrepreneurs, and prospects for the coming years, thanks to the important contribution of economists such as Stefano Zamagni and Pierluigi Porta.
There will be commemorative moments and some of the contributions made in Brazil last May: so we can savor the strong "international" emphasis which has characterized the events of the twentieth anniversary when, 1700 gathered in St. Paul from 38 countries and four continents (...and with Australia, connected via streaming) it departed with a whole new momentum, born from the awareness of being in the heart of a prophecy, which was announced 20 years ago, and today is still in full development to help create a world "without the most needy."