A decidedly "Interreligious" EoC presentation held in a local Islamic Centre last June 26th in Morris County, New Jersey.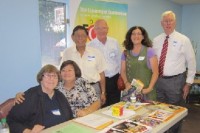 This very special occasion came about thanks to the personal contacts of Jim and Mary Jane Milway, members of the Focolare Movement in Morris County, with the network of associations which organized the event: 'New Jersey Peace Action', the August 9 Saving Lives Task Force, the Multi-faith Peace and Justice Alliance, just to mention a few.
The aim of the conference, held at the IMCM Islamic Centre, was to create a synergy for the elimination of poverty. They had two main objectives: to try and identify programs – on the legislative level, but not only – which would be able to combat poverty and promote a transfer of monies from military funding to environmental and humanitarian projects. All this through the creation of a team of organizers, sponsors, and friends of civil society of every faith: varied congregations, inter-confessional groups fostering peace, lay organizations, and humanitarian groups working for the poor.
Claude Blanc had the task of presenting the Economy of Communion within a panel which included political activists and others
involved in this area, from a great variety of institutions. "The other speakers at this conference were two Imam, a Buddhist monk , a Hindu, two Protestant ministers, a Jainist, two Rabbis and other people of various faiths. Each one presented a program" recounted Claude Blanc. The approximately 140 present reflected the variety of speakers. That which struck one the most, in fact, was their diversity, and at the same time, the common passion in each and every one to serve the poorest through many concrete projects."
Claude's presentation on the Economy of Communion was greeted with great interest. At the end of the program, a "show for peace" was put on, where each group represented there had a booth. "Ours stand was full," continued Claude. "Some students from a nearby University were also very taken. The director of a local NAACP Chapter (a very influential group for the advancement of Afro Americans) gave me his business card asking me to remain in touch. A teacher invited me to go and speak about the EoC to his students. The Buddhist monk had read about the Focolare in a magazine published in Sri Lanka by the Risho Kosei Kai. Later, during the dinner offered by the Islamic Centre, many people surrounded us wishing to know more. It was a great grace for me to contemplate the gift of God in so many people apparently diverse, yet moved by the same spirit. A real sign of hope….."