Entrepreneur Of The Year Philippines is a program of the SGV Foundation, Inc., with the participation of co-presenters Department of Trade and Industry, the Philippine Business for Social Progress, and the Philippine Stock Exchange.

Banking on being a good neighbor
published in Businessworld on 02/10/2017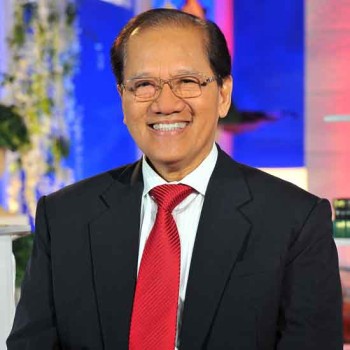 TRUST and integrity have always been essential qualities in the financial industry. These values are what motivated Atty. Francis Ganzon, 67, when he took over Bangko Kabayan, a private development bank dedicated to improving and empowering small- and medium-sized enterprises (SMEs).
After graduating from the Ateneo de Manila College of Law, and working as an associate lawyer, Mr. Ganzon left his legal career to help save his father-in-law's business, the Ibaan Rural Bank, Inc. (IRB). The IRB was in the middle of a bank run with bank personnel involved in fraud cases. "My father-in-law said my only concern is to regain the trust of the people and to make sure everything is done properly," recalls Mr. Ganzon.
Mr. Ganzon started by replacing the staff, and actively working to regain the trust of the bank's depositors. "I went to different barangays to campaign, promising a different management style and telling people about the importance of a rural bank," he recounts. The bank started focusing on instilling professionalism and becoming more people-centered. It generated funds by selling off real and other properties acquired from loans on which clients defaulted. Deposit generation became the IRB's primary target. It took IRB 10 years to once again operate as a stable rural bank.
Mr. Ganzon believes in building meaningful relationships with clients. This is inspired by a faith community called the Focolare Movement. "They have this concept called the Economy of Communion," he reveals. "It promotes a practice of businesses being used as a tool to help the poor." This led to the establishment of Ibaan Rural Bank Foundation, with the purpose of extending micro-credit and scholarship programs for poor but deserving students and sponsoring community-building seminars.
The 1997 Asian financial crisis affected more than 50% of the bank's portfolio. "The only reason we did not close is because we had a strong deposit base. Our customers saw us as an institution to believe in," discloses Mr. Ganzon. In the same year, the bank celebrated its 40th anniversary and renamed itself Bangko Kabayan.
Bangko Kabayan then came across the success of Bangladesh's Grameen Bank in providing microfinance to provide the poor with access to credit and opportunities to

uplift their lives. Mr. Ganzon admits this was a risk but also a breakthrough for Bangko Kabayan. "We did not realize that many people who didn't own collateral were also credit worthy," he says. "They lacked opportunities and access to finance, and that's what we gave them."
They then decided to make it one of their main products. This created a "collateral of trust": the bank trusts the people it gives out loans to and, in return, those clients trust the bank to look out for their best interests. He said the bank saw the social impact of microfinancing and how it improved and empowered the lives of people and small enterprises. After that, Bangko Kabayan changed its vision to become the preferred SME credit provider in the region, opening 23 branches in the provinces of Batangas, Quezon and Laguna.
Bangko Kabayan prides itself with its reputation as a "good neighbor" in the community. Mr. Ganzon instills the value of personalized service to differentiate his team from commercial banks. They also serve as community centers where depositors come to socialize.
One of the challenges Bangko Kabayan faces is that foreign banks are pushing commercial banks out to the provinces. Mr. Ganzon said the bank will continue expanding in Region IV. He considers the Association of Southeast Asian Nations integration as another challenge. He realizes that big agricultural firms will affect local SMEs and Bangko Kabayan but sees this as an opportunity to help the bank's clients with additional development financing.
The next phase for Bangko Kabayan is to build a balanced portfolio of loans and treasury revenues, as well as to invest in more technology, especially Internet banking.
Bangko Kabayan has been recognized for various achievements. In 2007, it received the Best Capital Build-up in the Landbank Awards and was included in the Global Top 100 of Microfinance Information Exchange. It was named the outstanding Land Bank of the Philippines partner bank in the region from 2008 to 2011 and again in 2013 and 2015. Bangko Kabayan received the Microenterprise Access to Banking Services' MF EAGLE Award from 2003 to 2007 and again in 2010 and 2011.
Mr. Ganzon believes that determination and integrity will always be rewarded, and hopes that aspiring entrepreneurs will take this message to heart: "When you have a vision, you have to stick by it. Be very persistent no matter how hard it gets."
"Integrity and trust is also very important. I look forward to the day that bank transactions can be done with a handshake instead of paper work."