The stories of EoC companies do not always have an ending because they never end.
by Carolina Carbonell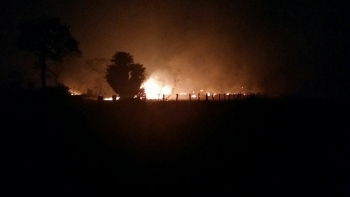 Aldo Calliera is the owner of the agricultural EoC company El Alba in Santiago del Estero, in the north of Argentina, and has already been the protagonist of another story on the EoC site: ...Di cavalli e mandriani (story available only in Italian – the tr.).
On Saturday 19 August, Aldo sent us a photo of the flames that were burning his field with great force. In his message he told us: "I have worked as a fire-fighter with my colleagues for two days now. In a couple of hours we lost the fruit of many years of ecological care of the native forests and all that grew on the agricultural plots". The next day further news arrived: "Last night we had another very complicated case of fire, but it is already under control".
"How are you, friend?," we asked him on Monday. "Of course I am physically exhausted, but spiritually it is a grace to be able to live all this with serenity and share this serenity with the team. For example, a neighbour called me last night to tell me that he had seen another big fire. When I called one of the young men to ask him to be watchful, I was surprised that all the employees had gone to the field as soon as the wind started to rise (at 6 pm on Sunday). They were all there, without any previous agreement. When I called back at 10 a.m. they told me that I should be calm and that they had controlled the fire and they didn't want to worry me. For me, this is worth much more than all material losses."
There are thoughts that only come to mind in terrible nights, and perhaps we can only understand them in those nights. It is amidst these pains that the EoC really expresses itself in all its fullness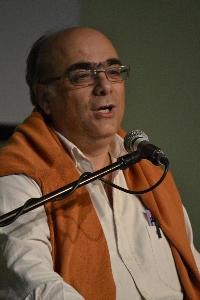 In the following days Aldo wrote to us: "The fire is now off, but with this temperature, low humidity and wind, it can restart at any time. It has hit the agricultural part and the iron wire infrastructure. I will only know the real extent of the damage next summer, depending on the yield of the crops. For the time being, the people renting that sector from me are willing to continue, but without paying the rent."
At universities, in conferences, in our reports, we will tell about the EoC through these stories, so that this apparently lost capital returns multiplied. As I was writing these lines I could imagine Aldo and his men in the "matera", at dawn, sharing chatter, tales, stories, and warming up their bodies while weaving bonds of friendship between real partners.
Aldo is one of those people who, as Eduardo Galeano1 would say, "burn their life with such desire that it is not possible to look at them without blinking, and all those who approach him light up, too".
---
1 Uruguayan journalist, writer and essayist, he was one of the most authoritative and esteemed personalities of Latin American literature. (ed.)