2nd Congress of the Economy of Communion in Spain.
The Culture of Giving and the Economy of Communion: a utopia or reality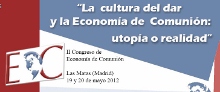 19-20 May 2012
Mariapolis Center Luminosa
C/Poniente 33 (Las Matas)
28290 Las Rozas (Madrid)

A whole weekend to reflect on all that has been realized in these first years of the project's life and, above all, to look to the future of the Economy of Communion in all of Spain and the world, with the presence of Luigino Bruni, coordinator for the International Commission of the EoC, and comments and experiences from many firsthand actors. It will be an exciting moment for all those persons interested in getting to know this reality better, which is generating so much hope for the building of a more human and fraternal economy.
see

programme
Today, the idea that it is necessary to open up new roads is gaining ground in civil society. The economic situation is discussed from many points of view, but many arrive to seeing the need that the economy be rid of all egotistical elements which has caused it to fixate all of its attention on making the greatest profit possible, at whatever cost. Financial activity has become the end goal instead of a means for economic activity.
However, concepts like gratuity, reciprocity and fraternity are finally entering into economic theory, something that was unfathomable only a few decades ago. One has the impression that a real movement is taking shape, which tries to underscore ethics in this field and to truly have the economy be at the service of the human being.
The Pope's most recent Encyclical, Caritas in Veritate, is a wonderful compendium that explains these attractive concepts. In addition, this encyclical expressly cites the economy of communion as one of the valid proposals with which to face the problems mentioned.
What does the Economy of Communion offer so as to be so appreciated by the Pope and, in general, by those who feel the urgent need to make its proposals and concrete applications more widely known?
This congress will try to give a response to these questions, by dealing with the different aspects of the project: the businesses, which share their profits with those in need and experience a new way of relating; the less advantaged, the real actors in the project; the development of new economic theories that give scientific value to the project and contribute to spreading a new culture: the culture of giving that animates the behaviour of all the actors mentioned.
To register and for more information: This email address is being protected from spambots. You need JavaScript enabled to view it. ; telephone +34 91 630 1092
Register by 9 May 2012