A business born from the Communion of know-how and more...
By Adriana Mendes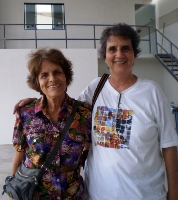 "I had long dreamed of opening an EoC business in the Ginetta Industrial Park (Igarassu-PE). After a few years of trying and of conducting market research in Brazil, during the 20th anniversary Assembly of the EoC in Sau Paolo, I met Jussara Gomes, an entrepreneur of the EoC who founded the Gicalli company, a business that has been in operation for 18 years in Rio de Janeiro." This is how Aparecida Pina, better known as Cida, an expert in social communications, tells about the start of the business venture named Lado C (Side C, creative pieces) at the end of January 2012. Cida is now in charge of the sales department, in addition to coordinating the general management of the business.
Cida's dream was immediately shared also by Nadja Palmeira from Maceió-AL, who had the same desire and thus became a partner. (in the photo: Nadja on the left and Cida on the right)
Cida continued: "From this 'idealogical encounter' a generous collaboration was formed, beginning with the free sharing of all the how-how behind Gicalli: models of production, job descriptions, policies and procedures, models for products, instructions for raw materials, suppliers, letters of recommendation, full availability of employees, as well as open doors in the first months to all their company plans for Lado C."
At the Ginetta Industrial Park, Lado C occupies a 200 square meter warehouse, in which 9 people currently work.
When it was time to employ workers, preference was given to 5 young women who live around the industrial park and who would otherwise not have had the opportunity to hold such a position, despite their adept abilities.
The first products made are 9:items: necessaries bags, aprons, trash bags for cars, ecological bags for shopping, money purses, cell phone cases, camera cases, beach purses and bags. The line "a place for everyone," exhibits the most famous scenery of Northeast Brazil: its beaches.
Lado C aspires to be a creative alternative in its organizational structure, management approach, and the quality of its products and geographical location. In fact, in Northeast Brazil, Lado C is one of the few industries to produce such items: useful personal products, practical and aesthetically attractive, which present something new in the local market. Through its manner of doing business with clients and suppliers, Lado C also tries to transmit its fundamental principles, based on the guiding principles of the EoC
Lado C therefore wants to act in a different way, to look at the current market and view its work as a real service to it, as something complementary to the human person, which allows s/he to be fully fulfilled regardless of the role they hold in society; Lado C considers the human person at the center of everything; not capitalism, or models that crush the human being, and even less so welfare or socialism. Its not Lado A or B, but a new way, that of Communion.
Cida also openly answered a few of our questions:
What do you feel today, having seen Lado C come to life?
"An immense joy!!!! The suppliers, the clients, the representatives, the public institutions, in coming here breathe something different and immediately ask: "What is this industrial park?" Or: What is the new idea within this reality, what is the driving force behind this experience? And this is fantastic!! I know that its a great responsibility, and I am always asking the Holy Spirit to help me. In this way, I can make my dream come true -- to have the possibility of doing my part for the industrial parks. Is it clear? Here at the Ginetta Industrial Park there were just 2 businesses. With the opening of Lado C, the reality has changed and we see more life, the employees from the Dalla Strada company are always in contact with us; we even had some conferences together. Now we are looking into having a common cafeteria and other training programs together."
What connection to you have with the Gicalli? What urged Jussara to share her know-how?
"There is no legally binding contract. It came spontaneous to her to open her doors to us..
As Jussara herself said, both of us are part of the same "EoC Family." We met up at the 20th anniversary Assembly of the EoC and after she heard me talk about the Ginetta Industrial Park, and of my desire to start a business there, she sought me out and told me that she was willing to help me. I did not immediately grasp her aim; I thought that she would give me a simple hand, but right from the first time that I visited her company in Rio de Janeiro, I felt that she was open to a real communion. I went to Rio four times, last year and this year, at the beginning of January, and Jussara came to me with some of her most expert seamstresses, and her son who works in the production sector. She remained for a week, so it was possible to have our seamstresses be well trained. We talk often and she continues to share her knowledge and friendship with us. Then, right in these days, Jussara shared her desire to become a partner with us, because she really believes in our company and sees a lot of promise for growth. She will do it through her son, Sérgio José de Souza Brito."
Lado C was born from an experience of communion between business women, so it will have a lot to do in this sense; both in giving and in receiving. But is there something that you would like to underscore?
"Only to say that my company is a normal one; it follows all the rules of the market, is competitive and, God willing, it will grow large. I hope to be able to contribute to the formation of young people and of the women who live around the Industrial Park, by offering them qualifications and helping their family income to grow. We meet once a week to see how we have lived and to read some formative writing together. Every two months, we will hold a larger meeting to talk about specific subjects and provide additional formation."
Here are some more pictures:
The Workshop:
The Office:
The Products: